Description
Mark your calendars! Friday, June 21st, The Zen Life Center is hosting a FREE screening of "Another Plan From Outer Space" - a 1950's retro sci-fi film with a twist! The film had a successful premiere in Orlando, Fl last Fall 2018 and we have decided to show it again, this time for FREE and donation based admission for Lily's Fundraiser. The donations will be going to the cause "Fight For Lily" Fundraiser. More information about Lily Hoehn can be found here: https://www.facebook.com/FightForLily/
Doors open at 6:15pm. The film will start at 7:00pm sharp and end with a short QnA following the film with Actor/Producer, Hans Hernke who plays Lt. Brooks in the film.
Grab your FREE tickets now while they are hot!! Limited Space for this screening, only 115 tickets available!
Screening at: The Zen Life Center
1425 Tuskawilla Rd #181, Winter Springs, FL 32708
Plenty of parking in the shopping center lot!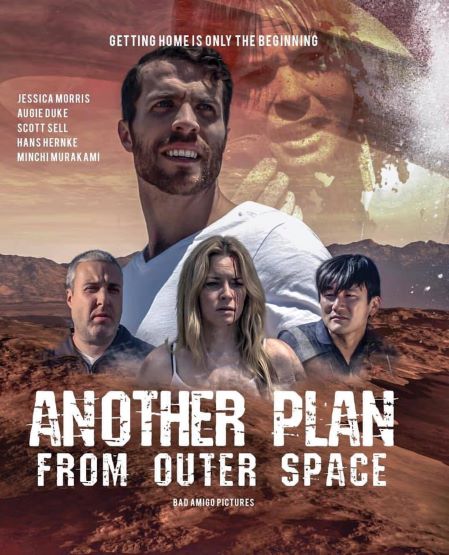 Snacks/Drinks, as well as signed DVD/Blu-rays by the cast will be available for purchase before and after the screening. Raffle tickets will be given at the door for some PRIZE GIVEAWAYS!
Five Astronauts. One Goal. Stay Alive. Five astronauts who return from a long deep space mission to Mars, crash land their space shuttle, Genesis One, on Earth. The crew of Genesis One soon find out their hope for a rescue quickly turns into a fight for survival.
Directed/Written/Produced by: Lance Polland
Director of Photography: Vito Trabucco
Executive Producers: Hans Hernke, Aaron Warren, Steven M. Smith, David. C Hayes, Chris Begley, Martin R. Mikolajczyk, Mir Waiss Najibi, Steven Robert Alexander
Cast: Jessica Morris, Augie Duke, Hans Hernke, Scott Sell, Elizabeth Saint, Minchi Murakami
Run Time: Approximately 1hr and 40mins
Rated: PG-13 - Mild Violence, Adult Situations, Mild Language


This screening is free and donations are welcomed at the front door for Lily Hoehn. To hear more about Lily Hoehn and her story, please go here: https://www.facebook.com/FightForLily/
Lily Hoehn has Chronic Recurrent Multifocal Osteomyelitis is a rare condition (literally 1 : 1,000,000) in which the bones have lesions, inflammation, and pain. This autoinflammatory disease triggers the immune system to over-produce a specific protein in the body which creates lesions on the skeletal system that eat through the bones. As the lesions eat through the bones tremendous pain is experienced.
Her mother, Sheila, has offered the Zen Life Center as a venue to screen the film for her daughter's fundraiser.