FREE: San Francisco Bay Shoreline Adaptation Atlas, a new report from SFEI...
Description
As the climate continues to change, San Francisco Bay shoreline communities will need to adapt in order to build social and ecological resilience to rising sea levels. Given the complex and varied nature of the Bay shore, a science-based framework is essential to identify effective adaptation strategies that are appropriate to their particular settings and that take advantage of natural processes. This report proposes such a framework -- Operational Landscape Units for San Francisco Bay.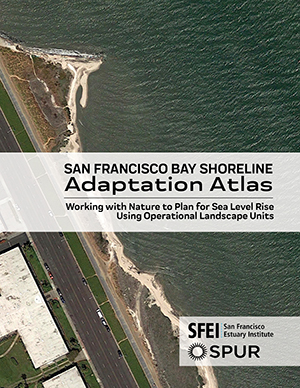 This webinar will walk through the new report -- a tool for helping communities plan for sea level rise in the Bay. The report includes a discussion of how to use nature's boundaries to plan for sea level rise collaboratively. It includes multiple maps describing the geographic setting and environmental characteristics along the Bay shore, as well as a discussion of over 24 adaptation measures that could be suitable in San Francisco Bay. Finally the report includes an atlas of the entire shoreline broken into 30 segments (known as Operational Landscape Units), with a discussion of which nature-based strategies and which long-term land use changes could be used to prepare for sea level rise and other types of climate change induced flooding.
We hope you will join us for this discussion. Please bring questions about how you may use this tool in your adaptation planning work.
The webinar will be conducted via this link:
To dial in by phone:
United States - Boston, MA
+1.857.444.6500
United States - Denver, CO
+1.720.650.5050
United States - Los Angeles, CA
+1.213.226.1066
United States - New York, NY
+1.646.307.1990
United States - San Francisco, CA
+1.415.594.5500
United States - Seattle, WA
+1.206.636.0011
United States - Tampa, FL
+1.813.769.0500
United States - Washington, DC
+1.202.602.1295

Conference ID: 328-812-946 #