Free FACE to FACE RTP Business Rockstar Connect Networking Event (January, RTP)
About this event
FACE to FACE, LIVE, and IN-PERSON!!!
Be a part of your community, grow your business, inspire, motivate, and keep your livelihood healthy and strong!
Join us for a fine evening of building quality connections with people who MAKE THINGS HAPPEN! RTP Business Networking powered by Rockstar Connect hosted by Domenic Battistella and Big Frog Durham is happening at Sonesta Select Raleigh Durham Airport Morrisville on January 19, 2022, from 6 PM to 8 PM.
This event is given to the community by the host as a benefit to bring people together safely. The hope is that each attendee will leave with some new knowledge, a new connection, or new possibilities for building a business while supporting the venue thrive through this challenging time too.
Domenic Battistella
https://www.newyorklife.com/agent/dbattistella
Big Frog Durham
https://www.bigfrog.com/land/131906-2/
What's new? Check out our landing page for more details:
https://rockstarconnect.com/rtp-business/
Rockstar Connect
https://www.rockstarconnect.com/
All attendees are welcome, either living in or visiting the Greater Raleigh-Durham, North Carolina area: Chapel Hill, NC, Carrboro, NC, Cary, NC, Apex, NC, Raleigh, NC, Wake Forest, NC, Holly Springs, NC, Garner, NC, Graham, NC, Fuquay-Varina, NC, Burlington, NC, Clayton, NC, Henderson, NC, Sanford, NC, Smithfield, NC, Hayes, NC, Joyland, NC, Braggtown, NC, Keene, NC, Bilboa, NC, Colony Park, NC, Hope Valley North, NC, Mill Grove, NC, University Estates, NC, Weaver, NC, Surry Green, NC, Few, NC, The American Village, NC, Oak Grove, NC, Rocky Knoll, NC, Suntree, NC, Huckleberry Spring, NC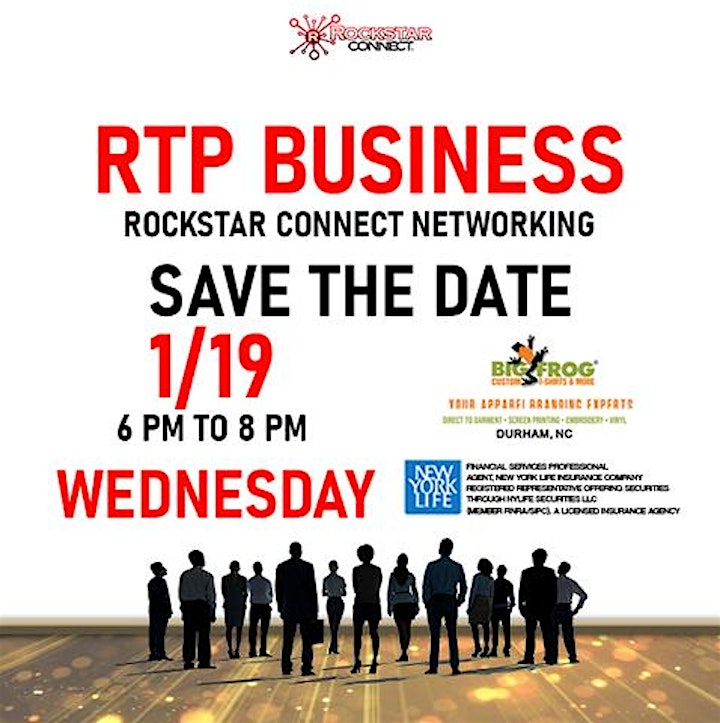 Organizer of Free RTP Business Rockstar Connect Networking Event (January, RTP)