Description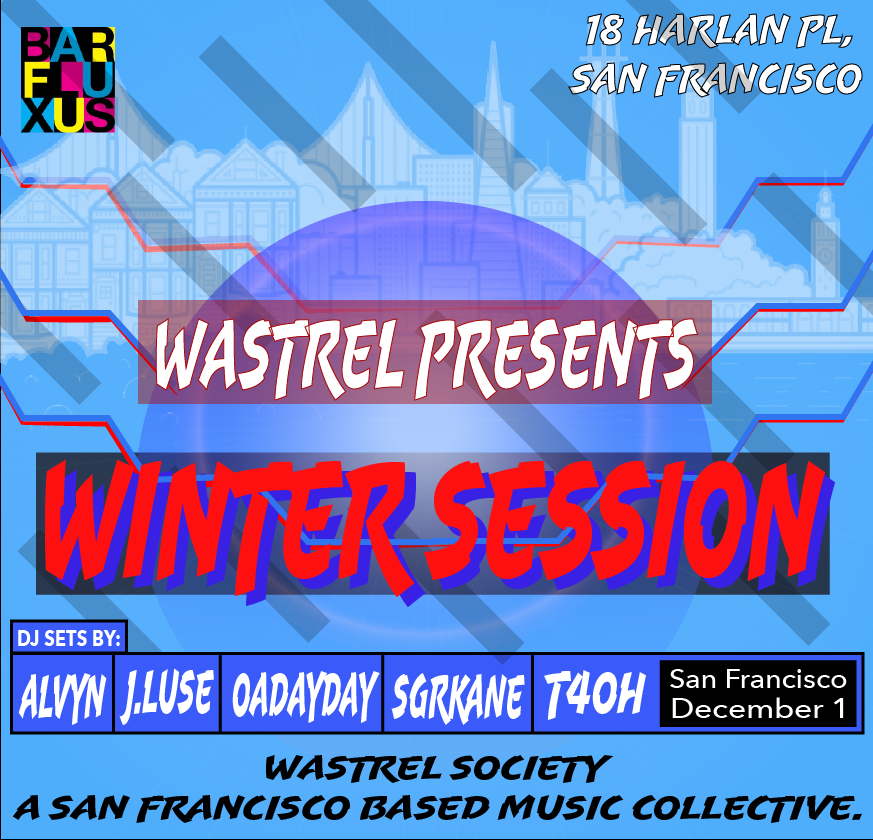 Winter doesn't Suck!

DJ and music collective Wastrel Society are back with another bass rattling psychedelic party. Wastrel Society has been throwing events all over the Bay Area and they are back for their third show at Bar Fluxus. Fluxus Friday - Winter Session features The Whole Wastrel Society line-up, tunes from so many diffrent genres you'll forsure see the Wastrels at their best!
Music tunes include; Hip-Hop, Trap, House, Future Bass, Techno, Electro, and Deep House.
His motto is broken beats for broken hearts. This rising San Francisco native star got his start blasting parking lot speakers in the SoMa. Now he rocks the house with his unique dirty American house and techno sounds! Bring your dancing shoes when J.Luse is on the decks. He's for sure to go deeper than any other disc jockey in the city.
T4oH: This American electronic music producer has been DJing for over 7 years. He supplies dance floors with a unique style that mixes electronic trap, dance, and hip hop. T4oH is a San Francisco native that never delivers a dull moment while on the decks. He is known for throwing down some of the dirtiest mashups in the city.
https://soundcloud.com/t4oh
SGRKANE: Sugarcane, or sugar cane, are several species of tall perennial true grasses filled with bass, loopy drops and the hardest sounds your ears will ever hear. SGRKANE is making his Bar Fluxus debut where he will drop original tracks as well as interesting remixes to familiar beats that are faster than you can take a birthday shot. Be prepared to rock with SGRKANE as he drops Hip-Hop, Dance, EDM, and Trap tracks. Website(s): instagram.com/wastrelsociety
https://soundcloud.com/sgrkane

Website(s):


More on the collective:
Gentrification prompted the 2017 closure of SF Pizza. This removed a platform where the community could come together, play music, and display artwork. Wastrels are the good for nothing natives born and raised in SF who can no longer have business or live here. The Society was created to combat gentrification by way of music and arts to protect and unite the people of our city by bridging the gap between the locals and the newcomers.