Sales Have Ended
Registrations are closed
We look forward to seeing you there!
Sales Have Ended
Registrations are closed
We look forward to seeing you there!
Description
Rather than going out to a boot camp class, we're bringing the boot camp class to you! Come join Decathlon and AscendBody on a beautiful rooftop in downtown San Francisco for a free 45-minute intensive bootcamp session, where we will be working on a full-body, circuit training course that will leave you feeling energized and strong for the week ahead! All levels are welcome. Spots are limited - RSVP via Eventbrite to secure spots for you and your friends! Please arrive 10-15 minutes early for a prompt start time.


- Post-workout snacks will be provided
- Beverages by WTRMLNWTR will be provided throughout the training session to keep you moving!
The Instructor: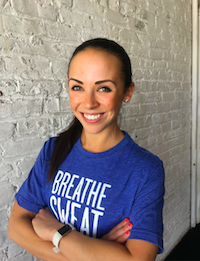 About Danielle: I am a certified trainer as well as a holistic nutritionist. In my previous life, I worked full-time behind a desk at a hedge fund. I would spend 40+ hours a week sitting and wondering why I wasn't happy. I was always passionate about health and fitness but was attached to the security full-time work offered me. One day, I just decided to take a leap of faith and follow my passion – I took my first weightlifting certification course and the rest I guess is history. Leaving full-time work behind a desk was one of the best things that ever happened to me.

It's been 10 years since then and I can't begin to tell you how thankful I am that I once got dumped for not loving fitness. SO – moral of my story – it doesn't matter who you are, when you start – how in shape or not in shape you are – start somewhere! We were all beginners at one point and there's nowhere to go but up on the journey to health.
---
About Ascend Body:
We're a holistically-inspired fitness and wellness studio in the heart of San Francisco's Mission District (2415 Mission Street). We are a team of passionate C.H.E.K practitioners, personal trainers, nutritionists, and holistic wellness coaches striving to build healthy, happy lives through exercise, nutrition, restoration, and positive thinking.
We value exercise and nutrition as much as we value restoration and positive thinking. That's why they call us holistic, a balanced mind-body approach. In addition to offering one-on-one personal training and vibrant, small group fitness classes 7 days a week, we also work with you to optimize your eating habits, because we believe one-size-fits-one and every body is different.
About Decathlon:
Since 1976, we've been a community of sports lovers devoted to encouraging the practice of sports to build community, purpose and friendship. We make #sportsforall by creating high-quality sports gear at prices everyone can afford. This way, sports are accessible to any player out there. Come meet us at 735 Market Street or online at www.decathlon.com!
#decathlonusa #ascendbody #breathesweatsmile #sportsforall #decathlonxascendbody