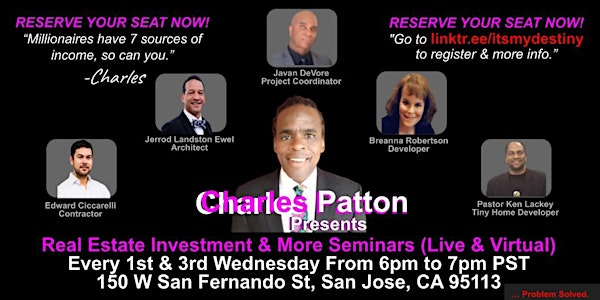 FREE- Real-Estate Investment & More Workshop- Live & Virtual
FREE: Join Charles Patton & friends as they empower you to real-estate & more investment success! Bring & share this with your friends!
When and where
Location
Capital Club 50 W. San Fernando San Jose, CA 95113
About this event
Here is some of what you will learn:
Minimizing your risk.
Good, bad & runaway fast.
Become a passive investor.
Create your investment team.
Knowledge is profit and power.
How to be a successful investor.
How to define a good transaction.
How to build your investment team.
Education for 2022 investing and beyond.
From tiny homes to senior housing projects.
No hype, no theory, just real world answers.
Get information on current investment opportunities.
The investment process from a seasoned investment team.
Steps for evaluating your & understanding your investment.
What a developer, investor, contractor, & architect, etc. does.
Bring a friend.
If you're a good investor, become great. If you're great, come help others do the same.
Workshops are currently being held live & virtually every 1st & 3rd Saturday in San Jose, CA. 6:00 pm to 7:00 pm with new locations starting in the fall of 2022 in Atlanta GA, Chicago, IL, New York, NY, and Anchorage, AK., etc.
If you can not attend our live event. We can bring the live virtual event to you by clicking HERE.