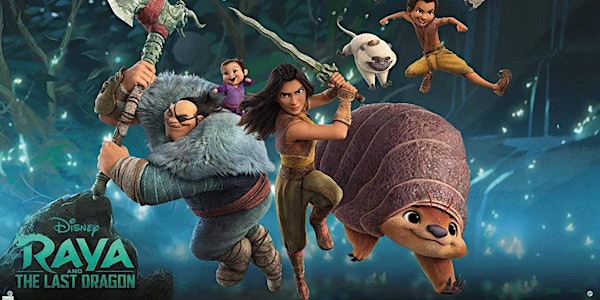 Free! - Raya and the Last Dragon & Hair Love | BTM Films on the Rooftop
Raya and the Last Dragon journeys to a realm known as Kumandra, plus see the Oscar-winning short film, Hair Love!
When and where
Location
Bronx Terminal Market, Garage Roof Level 6 610 Exterior Street Bronx, NY 10451
About this event

Join the 19th Annual ImageNation Outdoors festival at Bronx Terminal Market Films on the Rooftop for an outdoor screening of Raya and the Last Dragon preceded by the Oscar®winning short "Hair Love"! Raya and the Last Dragon journeys to a realm known as Kumandra. On this re-imagined Earth inhabited by an ancient civilization, a warrior named Raya is determined to find the last dragon. Raya is preceded by the 2019 Academy Award winning short film "Hair Love," wherein A father tries to do his daughter's hair for the first time.
Come early at 6:30PM for music by Ivan Soto aka DJ Big Ive, face-painting, fun and giveaways! Limited seating is provided.
PRESENTERS
BRONX TERMINAL MARKET
Located in the heart of The Bronx just under the Major Deegan Expressway at Exit 4/5, Bronx Terminal Market is a vibrant mix of modern architecture, diverse shopping, and colorful history.
With nearly a million square feet of retail space, and parking for 2,600 cars, it offers some of the best, most convenient shopping around for miles.
Built on a sprawling 17-acre site that once was the area's bustling center for wholesale fruits and vegetables, Bronx Terminal Market continues to be a popular gathering place – only this time for much more than carrots, apples and artichokes. Our variety of stores and restaurants is growing all the time.
IMAGENATION
Each year, for the past 18 years, ImageNation has presented the free ImageNation Outdoors Festival to foster fellowship among New York City residents, while celebrating communities of color through cinema and music.
ImageNation Cinema Foundation is a Harlem-based media arts group, founded with the goal of establishing a chain of art-house cinemas, dedicated to progressive media by and about people of color. Through a variety of exhibitions and programs, ImageNation edifies its audience. ImageNation fosters media equity, media literacy, solidarity, cross-cultural exchange and highlight the humanity of Pan-African people worldwide. Click here to learn more.
COVID-19 PRECAUTIONS
We continue to implement the latest guidelines from the CDC, state and local health experts with regard to cleaning, sanitizing, social distancing, and security.