FREE "Q&A" WEBINAR ON TRAVEL/STREET PHOTOGRAPHY and LIGHTROOM 4 - FRI. 1/25/2013 11pm - 12:15am (EST) Host: Andrew Darlow
Description
In this free online webinar late Friday evening, January 25, 2013 from 11:00pm -12:15am EST (different time zone? - click here to translate to your time), award-winning author, photographer and consultant Andrew Darlow will answer Travel/Street Photography and Lightroom 4 questions from those submitted by those who sign up and send a question after registering above.
Please note: The "webinar room" is limited to 250 participants, and the registration section will display "Sold Out" if no "virtual seats" remain.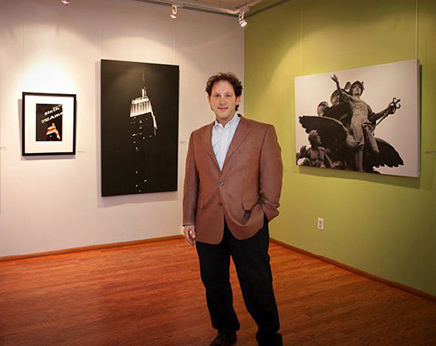 Andrew Darlow standing in front of a few of his canvas pigment prints during
a solo exhibition at Alfa Art Gallery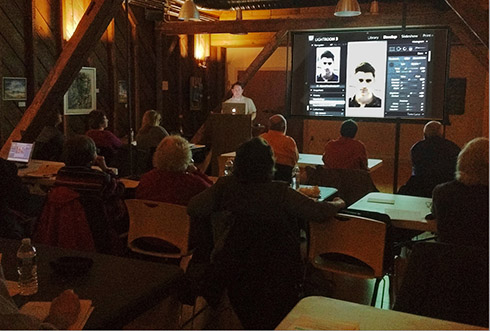 Andrew Darlow conducting a Lightroom workshop in Princeton, NJ
HOW TO WATCH THE WEBINAR AND SUBMIT AN OPTIONAL QUESTION:After you register above, you will see a box in which you can enter a question. You will then receive an e-mail confirmation and a follow-up e-mail with a link to view the webinar at 11pm EST on Friday evening, 1/25/2013.
PRIZES FOR THOSE WHOSE QUESTIONS ARE ANSWERED:
As a thank you for submitting a question prior to the webinar, over $300 in prizes will be awarded to up to seven people whose questions are answered during the webinar (you don't have to tune into the webinar to win a prize). Other special offers will also be shared during the presentation.

DESCRIPTION OF PRIZES:
• Two (2) 30 minute one-on-one phone consultations with Andrew Darlow ($100 value)
• Five (5) $25 Gift Certificates toward GalleryPouch™ Premium Bubble Bags (Please note: Because FrameDestination.com only ships to the 50 US States, only US residents are eligible to receive those prizes).
If there are not enough questions from attendees to fill the time allotted, Andrew will answer some or all of these questions:
• What are a few of your favorite "sub-2 lb (1 kg)" zoom lenses for Canon and Nikon DSLRs that are very sharp and great for travelers on the go?

• What settings should I start with for "Tracking/Panning" photography?
• How to I make selective color/contrast adjustments in Lightroom's Develop Module?
• How can I see the file name and other information next to the thumbnails inside Lightroom's Library Module?
FREE REPLAY FOR NEWSLETTER SUBSCRIBERS
A few days after the webinar is over, a video replay will be made available for at least 14 days to subscribers of Andrew Darlow's Inkjet & Imaging Tips Newsletter for no cost, and to the general public for $27.
To sign up to receive Andrew Darlow's Inkjet & Imaging Tips Newsletter (includes 12 tips from his book, 301 Inkjet Tips and Techniques and a free PDF Resolution Chart for determining sizes for printing), enter your name and e-mail below (if you already receive it, the system will let you know right away). Please be sure to confirm your subscription (a confirmation e-mail will arrive in your in-box) after you subscribe. The newsletter is free and you can unsubscribe at any time.
First Name: Email: We respect your privacy. Your e-mail will never be shared or sold.
NOTE FROM ANDREW...Thanks so much for stopping by! I've embedded a free one hour video below from a previous webinar that I did on Lightroom below, and I hope you enjoy it (the full-screen view will make it much easier to see). Also, below are two links to two upcoming webinars that I'm hosting this weekend in New Brunswick, NJ (both one-day workshops are exactly the same). I'd like to extend a $40 discount on either workshop with the promo code "LR4." http://darlow126.eventbrite.com (Sat. 1/26, 10am-5pm))http://darlow127.eventbrite.com (Sun. 1/27, 10am-5pm)I look forward to reading your questions soon! -Andrew -----------------About Andrew DarlowAndrew Darlow is a photographer and consultant based in the New York City area. For over 15 years, he has consulted on the topics of digital photography, digital output, and color management. He has written and edited numerous articles and reviews on the topics of digital and fine art photography, color management, inkjet printing, and Photoshop techniques, and his work has been included in many photography publications, web sites, and books.He has lectured and conducted seminars and workshops around the world at conferences and for photography organizations and schools, including the Arles Photo Festival, Columbia University, and the International Center of Photography (ICP) in New York. His book, "301 Inkjet Tips and Techniques: An Essential Printing Resource for Photographers," covers tips and techniques for prepping, printing and displaying prints made using inkjet printers. The book was chosen as the winner in the "Photography: Instructional/How-To" category of The National Best Books Awards, sponsored by USA Book News. Read Reviews on Amazon.com.RELATED ITEMS AND A FREE ONE-HOUR LIGHTROOM VIDEOAndrew Darlow is available for phone and in-person consulting. For information about consulting, visit his consulting page or call 732-742-0123. One hour Lightroom Library and Develop Module Tips Video from Andrew Darlow on Vimeo. Hello! I hope you enjoy this video. After reviewing the recording, I realized a few items: 1. I unintentionally cropped out the top bars of the video which makes it difficult to see the effects of the "F" key on the top of the screen when I show that tip. I recommend pressing the F key when you are in Lightroom so that you can see the effect. 2. I mentioned that I would cover Virtual Copies, but I did not get to that tip. Instead, here is a link to a great video on the topic by Terry White of Adobe: http://tv.adobe.com/watch/adobe-evangelists-terry-white/take-advantage-of-virtual-copies-in-lightroom-3/ In the video, Terry covers Virtual Copies in detail. In addition to the keyboard shortcut and menu option that he mentions to create a Virtual Copy, you can also right click on any photo then select the menu item "Create Virtual Copy" to turn it into a Virtual Copy. He also explains that you can update to a newer process to your photos (Adobe has refined the process over the years), which is another great tip. 3. Here's another tip that you may find helpful. The "D" key will take you into the Develop module from any other module. For any other questions, or to contact me for one-on-one training in person, via e-mail or via screen sharing (I can view your screen and even take control of your mouse with your permission, which makes the learning process almost like I'm there with you), please send me an e-mail through this page: imagingbuffet.com/contact-us/ All the best and thanks for watching! -Andrew Darlow Photography © Andrew Darlow Hair by Pirri Hair Team