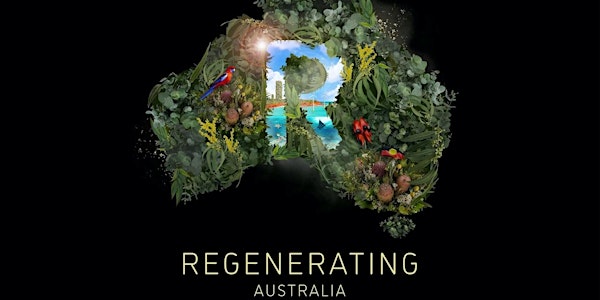 FREE PUBLIC VIEWING OF CLIMATE ACTION MOVIE: "Regenerating Australia"
FREE PUBLIC VIEWING OF CLIMATE ACTION MOVIE: "Regenerating Australia"
When and where
Location
Blackwood Uniting Church 266 Main Road Blackwood, SA 5051 Australia
About this event
We are delighted to invite members of the public to a free viewing of the climate action movie "Regenerating Australia." The short film will be followed by a facilitated discussion about how we can, as individuals and as a community, work toward regenerating Australia.
*** PLEASE ARRIVE AT 6.30pm FOR A 7.00pm START ***
The following describes the movie:
Regenerating Australia is a film and accompanying impact campaign seeking to accelerate the transition to a regenerative future.
What would Australia look like in 2030 if we simply listened to the needs of its people? Regenerating Australia is the latest film from Damon Gameau, the award-winning director of 2040 and That Sugar Film.
'Regenerating Australia' is a 17 minute short film by the creative team of the award winning film '2040'. It is based on a 4 month interview process with a diverse group of Australians who shared their hopes and dreams for the country's future.
Set on New Year's Eve of December 2029, a news anchor is ending the nightly bulletin with a look back at the decade 'that could be.' A decade that saw Australia transition to a fairer, cleaner, more community focused economy. The film is a construction of news reports and press conferences featuring real news anchors and journalists, politicians, business leaders and citizens.
Our visual effects team have brought to life the greener, more vibrant cities and communities that our interviewees are asking for. We see what a high speed rail network connecting regional areas and cities would look like, what large scale wind, solar, battery and hydrogen projects would do for hundreds of thousands of employees, and they show the impacts of landscapes coming to life when regenerative agriculture and reforestation programs combine with Indigenous knowledge and fire ecology to bring more people back onto the land.
This mocked up look back at the decade that 'could be' is full of hope and aspiration. But it is a muscular hope, as each news event is grounded in the research and modeling of several organizations that have been examining and advocating for such a transition.