FREE PSAT Prep Workshop 2013

Saturday, October 5, 2013 from 8:30 AM to 3:30 PM
Event Details
Office of the Vice-Chancellor, Student Affairs
UCLA Early Academic Outreach Program
REGISTER NOW!
PSAT PREP

Workshop
FREE

(a $249 value)
*c/o 2014

,

Did you know

this is a National Merit Scholarship Qualifying Test?
Performing well on this test could mean scholarship qualification!
---
 Location: Dodd Hall Bldg @ UCLA
      Date: Saturday, October 5th, 2013
      Who: Students Grades 9-11 (Limited Space Available!)

                           In order to participate students must:
                                       1. Currently attend an EAOP Affliated HS.
                                       2. Students MUST register to take the PSAT Exam in October 2013
Check-in: Dodd Hall Entrance @8:45 am
     Time: 9:00am to 3:30pm   
Lunch WILL be provided.  Students should bring money to purchase any additional food/beverage or memorabilia.
TRANSPORTATION will

NOT

being provided.  Please plan to provide your own transportation accordingly. 

Students, Please bring the following Materials with you:

Calculator

Pencil and Pen

Scratch paper

All other materials will be provided for you.
REGISTER ONLINE ONLY!
*Note* Registration forms will be emailed to you 1 week prior to the event.  
If you DID NOT receive a CONFIRMATION of  your registration, CONTACT US!  
YOU MUST BRING  your COMPLETED FORMS on the day of the event @UCLA.
SPACE IS LIMITED, so RSVP TODAY! 
 ~-~-~-~-~-~-~-~-~-~-~-~-~-~-~-~-~-~-~-~-~-~-~-~-~-~-~-~-~-~-~-~-~-~-~-~-~-~-~-~-~-~-~-~-~-~-~-~-~
For more information CONTACT a UCLA EAOP Representative, 
Email:  uclaEAOP@gmail.com
Office Tel: (310) 794-4074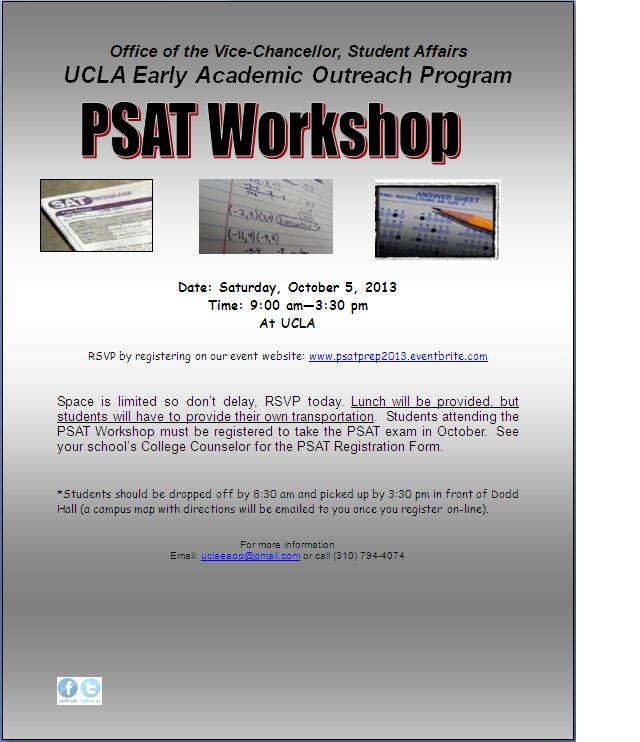 When & Where

UCLA Campus (Dodd Hall Bldg Entrance)
Building next to Murphy Hall
390 Portola Plaza
Los Angeles, CA 90095


Saturday, October 5, 2013 from 8:30 AM to 3:30 PM
Add to my calendar
FREE PSAT Prep Workshop 2013