Free Presentation by TONY ROBBINS Peak Performance Strategist Dragan Trajko...
Description
THE FACTS:
More than 60% of agents miss their sales goals
The average agent makes one or two attempts to contract leads, while 90% of sales are made after the 5th contact
50% of the sales go to the 1st agent to contact the prospect
80% of your sales come from 20% of your sales force
Only 11% of agents ask for referrals
WHAT ARE THESE HABITS COSTING YOU?
Learn the three actions you absolutely must take to be successful in any business
Destroy the two obstacles that are dramatically limiting your sales
Discover the fastest method for doubling your sales without spending a penny
Master a proven method for tripling your referrals in any interaction
Develop an unshakeable mindset that will give you the competitive advance in your industry
In just one hour, Tony Robbin's PEAK PERFORMANCE STRATEGIST Dragan Trajkovski will create an immediate shift in your performance.
Please note, as this event will sell out, all reservations will be confirmed via the phone number provided or must be deleted to make room. We will have a FULL HOUSE for this event to make it as amazing as possible. Hope to see you there.

Attendees will be offered discounts on Tony's upcoming visit in March 2019 to LA at the Staples Center.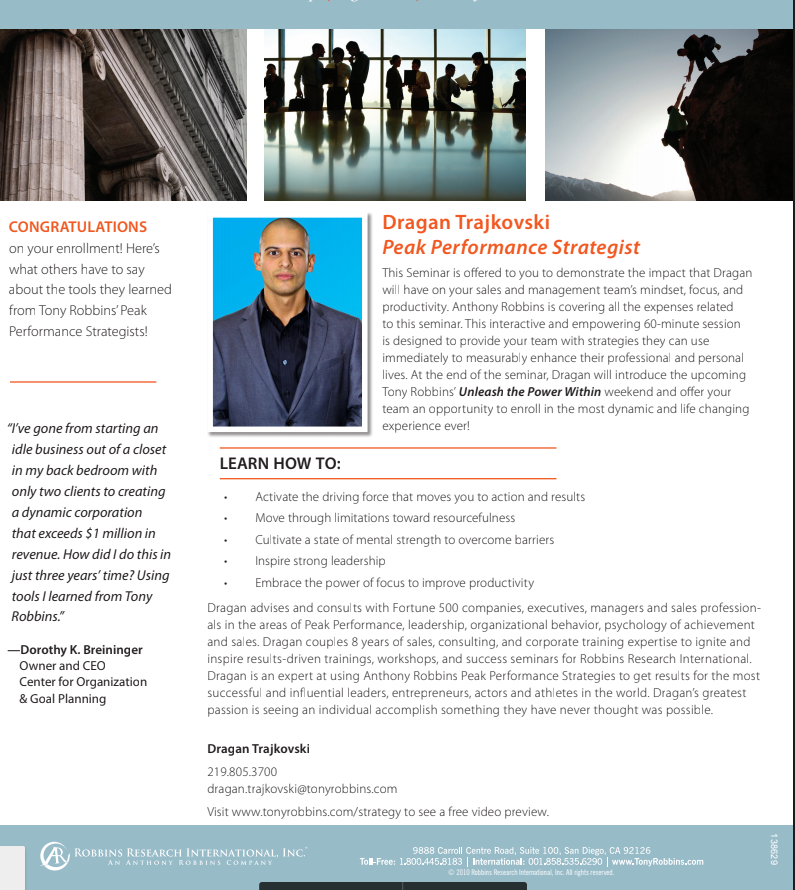 #TonyRobbins #AnthonyRobbins #UnleashThePowerWithin #UPWLA2019