Description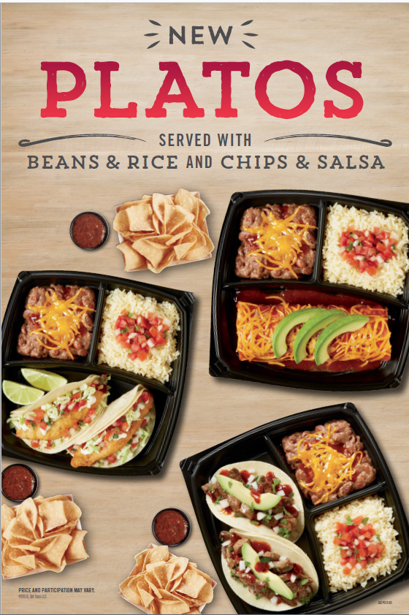 Del Taco's new Platos are individually plated meals for guests who are craving a "Mexican Night" style dinner (any time of the day) with beans and rice plus chips and salsa on the side. It's a freshly made complete meal served fast from a drive-thru. Now That's UnFreshing Believable!
Try any 1 of our 4 Platos for FREE! Choose from the following:
Carne Asada with Red Sauce & Cheddar Cheese Wet Burrito Plato
Chicken Verde with Green Sauce & Jack Cheese Wet Burrito Plato
2 Beer Battered Fish Tacos Plato
2 Street Tacos Plato (Carne Asada or Chicken)
What makes Del Taco UnFreshing Believable?
"We slow cook beans and serve them fast. We grill in-house and serve out a drive-thru window. We fresh chop the pico, hand-grate the cheddar cheese, and fresh-slice the avocado. And we do it all for less because we don't believe in making you choose between fresh-prep and a fair price, we believe in giving you both."
Legal Disclaimer:
(1) Free Plato meal (does not inlcude drink). Valid 12/5/16-12/9/16 (10am-9pm) Dine in Only. Limit (1) meal per person. MUST SHOW PRINTED TICKET. No meal substitution allowed. Do NOT register/order more than once. Mutiple reservations will be voided!