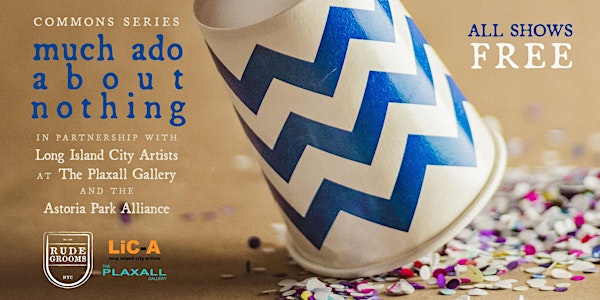 FREE Performances of Much Ado About Nothing at Rainey Park
When and where
Location
Rainey Park Vernon Boulevard Queens, NY 11106
Refund Policy
Refunds up to 1 day before event
Description
VIP seating, behind-the-scenes access, private performances, and more are available as perks when you contribute as a backer on IndieGoGo.
Much Ado About Nothing is a delicious cocktail of wit, delight, and heart that poses challenging questions about why we choose to forgive those who have hurt us most intimately. This free, 90-minute, family-friendly production explores how the play's depictions of gender roles illuminate our current struggle for equality and celebrates coming together as community to laugh, love, and mend. This production features an original score of live acoustic music, professional classical actors with experience from the Old Globe in San Diego to Shakespeare's Globe in London, and visits a variety of venues in Queens and Manhattan to bring this timeless frolic into our communities.
ADDITONAL VENUES:
Queensbridge Park (Long Island City): 8/14 at 6:30pm
West End Theatre (Upper West Side): 8/16 at 6:30pm
Astoria Park (Astoria): 8/17 & 18 at 6:30pm
Plaxall Gallery (Long Island City): 8/19 at 1:30pm & 6:30pm
The Production is led by actor-manager Laura Piccoli (Unhealthy at Batttalion Theatre Co) and produced in partnership with Long Island City Artists at the Plaxall Gallery and the Astoria Park Alliance. The production will play shows in Queens at the Plaxall Gallery, Astoria Park, Queensbridge Park, and Rainey Park as well as in Manhattan at the West End Theatre. Reservations are strongly encouraged and can be made online at rudegrooms.com.
In addition to Piccoli, the acting company includes Marie Louise Guinier* (Scissoring at INTAR), Sibel Damar ("We Will Slay" at UCB), Dhruv Iyengar (The Taming of the Shrew at Ithaca Shakespeare Company), Daniel Kemper (The Limit of the Tongue at The Daughter's Collective), Deb Radloff* (Caucasian Chalk Circle at Classic Stage Company), Joseph Robinson* (Nashville Shakespeare Festival), Amanda Rojas (Iridescent, Cannes 2018), Eduardo Ruiz (Pericles at Sainsbury Theatre), Montgomery Sutton* (Twelfth Night at Shakespeare's Globe), and Molly Thomas (Medea at Titan Theatre Company).
Kate Pitt (The Way of the World at the Folger Theatre) is the Book-Holder, Kara Arena (The Winter's Tale at Seven Stages Shakespeare Company) is the Master of Music, Bridget Bose (Guilty Pleasures Cabaret) is the Master of Movement, and Calley Luman is Associate Producer.
Rude Grooms' Master of the Revels Montgomery Sutton says "Much Ado About Nothing is a perfect production to launch our free, public Commons Series. This show is a 90-minute, family-friendly romp with live acoustic music, award-winning professional artists, and a delightful contemporary sensibility."
"The Commons Series brings free performances of new and classic plays into active public spaces and underserved communities. The goal of these productions is to activate familiar spaces in new ways and bring world-class performers out into our communities, removing as many barriers as possible between actor and audience."
* These actors are appearing courtesy of Actors' Equity Association. Equity approved Showcase.