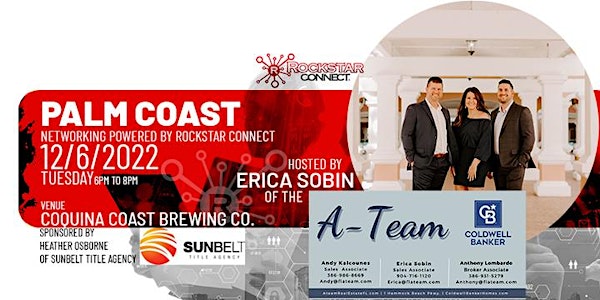 Free Palm Coast Rockstar Connect Networking Event (December, Florida)
Free FACE to FACE Palm Coast Rockstar Connect Networking Event (December, Florida)
When and where
Location
Coquina Coast Brewing Company 318 Moody Blvd Flagler Beach, FL 32136
About this event
A-Team Real Estate is inviting you to Join the Rockstar Connect Networking Event in Palm Coast happening in Coquina Coast Brewing Co. on Tuesday, December 6, 2022, from 6 PM to 8 PM! Sponsored by Heather Osborne of Sunbelt Title Agency. Palm Coast Networking powered by Rockstar Connect is about building meaningful connections with people who create opportunities and get things done.
Come mingle, socialize, and network with local professionals and entrepreneurs right after work. You'll make great connections in a fun and relaxed atmosphere while expanding your network of contacts to help grow your business or move closer to your business goals.
Our networking events are a friendly, engaging, and welcoming place to come to. If you are looking for a way to connect with the right people, build lasting relationships, and establish yourself in the Palm Coast community...you should be here.
Erica Sobin
For more information about Palm Coast Networking powered by Rockstar Connect, check out our landing page: https://rockstarconnect.com/palm-coast/
Rockstar Connect
https://www.rockstarconnect.com/
All attendees are welcome, either living in or visiting the Greater Palm Coast, Florida area: Ormond Beach, FL, Saint Augustine, FL, Holly Hill, FL, Daytona Beach, FL, Palatka, FL, South Daytona, FL, Port Orange, FL, DeLand, FL, New Smyrna Beach, FL, Edgewater, FL, Palm Valley, FL, Deltona, FL, Orange Park, FL, Jacksonville Beach, FL, Bon Terra, FL, Painters Hill, FL, Beverly Beach, FL, Marineland, FL, Bunnell, FL, Espanola, FL, Flagler Beach, FL, Neoga, FL, Summer Haven, FL, Dupont, FL, Black Point, FL, Fort Matanzas, FL, Bimini, FL, Korona, FL, Cedar Landing, FL, Mound Grove, FL, Favoretta, FL