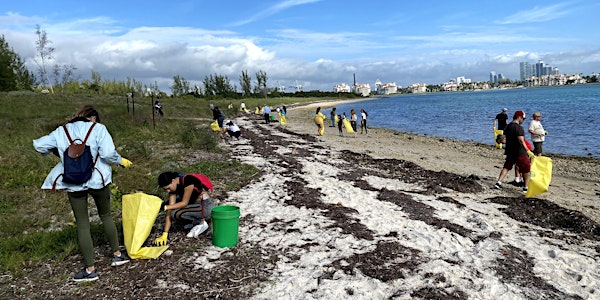 Location
Historic Virginia Key Beach Park
4020 Virginia Beach Drive
Miami, FL 33149
Sales Have Ended
Ticket sales have ended
Registration for Free Our Shores has ended. However, you can join us at Historic Virginia Key Beach Park this evening at 5:30 p.m. to register on site. All walk-ups will be on-shore volunteers (or will need to bring your own equipment).
Free our shores of marine debris with a post-4th of July clean-up.
About this event
July 4 is the most popular beach day of the year, resulting in a great deal of marine debris. Therefore, Clean Beaches Week, July 1-7, educates beach-goers on how to take care of our shores all week long.
Celebrate our beautiful beaches with Miami Waterkeeper, International SeaKeepers Society, Debris Free Oceans, Virginia Key Outdoor Center, and Historic Virginia Key Beach Park by clearing the area of marine debris.
You can clean up either on shore or on the water with kayaks and paddle boards. Equipment rental is available for a fee (see ticket options), but you are also welcome to bring your own gear.
Bohemian Kitchen will be on site to provide food and beverages for purchase. Only plastic-free utensils and tableware will be used. When using biodegradable disposables, it is important to have a waste management strategy to make sure these items don't end up piling up and persisting in a landfill. Thank you to Compost for Life for providing composting services so that these items and other food waste from the event can be turned into nutritious soil.
*Community Service hours also provided*
Important Volunteer Information:
Check-in begins at 5:15 p.m.
Please Bring:
Refillable water bottle. Coolers to re-fill your water bottles will be available. Stay hydrated and be prepared to work outside!
Closed-toe shoes are required and long-sleeved shirts are and long pants are recommended.
A hat, sunblock, and insect repellent (recommended).
Gloves you feel comfortable wearing (otherwise Miami Waterkeeper will provide gloves).
Disclaimer:
This volunteer event may require heavy lifting and water activities, so teenagers and older groups are recommended. If younger age groups participate, they should be monitored at all times by the designated guardian, parents, etc.
**Due to COVID-19 recommendations by the CDC, masks are not required for this event as it is outdoors and you will have the ability to socially distance. If you feel more comfortable wearing one, we welcome the opportunity to do so.**
If you are finding difficulties RSVPing to this event, please email erin@miamiwaterkeeper.org.