Free Orientation to Nourish Your Mood: Mindful Eating with the Brain in Min...
Description
Tried everything for your mood and ready for something more effective?
Join us in a free orientation class to learn about this new upcoming workshop.

Cutting-edge research shows that mood is a whole-body issue related to factors like inflammation, and how we eat can be a useful treatment.

At the same time, there is no one answer. You are your own guide in lovingly finding what works for you.

We will do some mindfulness practices together and be introduced to the latest science of how food makes a direct impact on brain health and mood. You will learn about an upcoming 9-month Sunday program. At the end, you will be able to register for the full class.

Nourish Your Mood: Mindful Eating with the Brain in Mind

is based on cutting-edge science, and includes mindfulness, movement, and
compassionate brain nutrition:
• the sparkle of healthy fats
• the wonders of the gut brain
• the beauty of purple foods

Excellent training for health care providers, parents, veterans, LGBTQ and diverse ethnic communities, and people with:
• anxiety and depression
• insomnia
• chronic pain and autoimmune conditions
• pregnancy and post-partum times
• a human body and mind

BODY-POSITIVE SIZE-POSITIVE FOOD-POSITIVE

wheelchair-accessible, near BART

More information about the full 9-month course here:
http://www.centerforstressreduction.com/nourish-your-mood-class-berkeley.html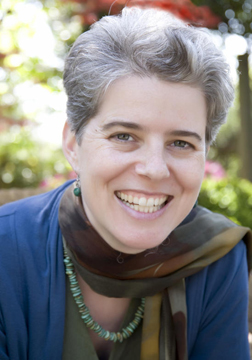 Reba Connell, LCSW, LCS 19814, teaches Better Mood Naturally: Mindful Eating with the Brain in Mind and Mindfulness-Based Stress Reduction. She has completed several levels of study in teaching Mindfulness-Based Stress Reduction, including a professional training program under the direction of Dr. Saki Santorelli and Dr. Jon Kabat-Zinn.
She is deeply engaged with science-based and traditional approaches to healing through food and self-care. Her trainings include a professional training in teaching Mindful Eating through UCSD; Food As Medicine; The Gut Brain; and Preventing and Managing Chronic Inflammation: Special Focus: Nutritional Interventions; and Nutritional and Complementary Treatments for Mental Health Disorders.
Finding mindfulness, movement, and food to make big differences in her own healing from chronic pain, she feels called to share what she is learning with others and to help people make their own discoveries. While focused on studying food for mood, sleep, and pain, she accidentally learned about the latest developments in the science of nutrition.
2 continuing education units are available for a small fee. CE credits for psychologists are provided by the Spiritual Competency Resource Center (SCRC) which is co-sponsoring this program. SCRC is approved by the American Psychological Association to sponsor continuing education for psychologists. SCRC maintains responsibility for the program and its content. SCRC is approved by the California Board of Registered Nursing (BRN Provider CEP16887) for licensed nurses in California. The California Board of Behavioral Sciences accepts CE credits for LCSW, LPCC, LEP, and LMFT license renewal for programs offered by approved sponsors of CE by the American Psychological Association. For questions about CE, visit www.spiritualcompetency.com or contact David at CE@spiritualcompetency.com.
Watercolor by www.sallybaker.com