Breathe Deep Within is a combination of meditation, breathwork, and sound therapy to calm the mind, relax the body, and awaken the spirit.
About this event
Learn easy-to-follow mindfulness/meditation and breathing techniques for stress management to improve your health and wellbeing. This 1-hour session teaches you the importance of breath awareness and how to use your breath to ease into deep relaxation and inner peace.
Meditation is the bridge between mind and body using the breath as the focus to be in the present moment. It builds a foundation that brings steadiness to the mind, the openness of your heart, and clarity with a new perspective on life.
Sound healing is an ancient practice that synchronizes brain waves to balance the body and mind on the cellular level.
The modalities of meditation, breathwork, and sound healing are complementary to each other.
Experience the 3 stages of meditation:
- Listen and locate the breath in the body to notice your breathing pattern. Bring your awareness to whether or not you are breathing fully or shallow breathing.
- Practice simple breathing techniques to manage stress and anxiety. These techniques are easy to remember and very effective in times of stress.
- Relax and go on a sacred journey inward with mindfulness/meditation while listening to the tranquil sounds of Tibetan and crystal singing bowls.
Find a quiet place to relax and let go. Create a healing space that feels calm and peaceful. Breathe in ways for a deep connection to your authentic self.
Experience peace and tranquility from the comfort of home, office, or anywhere via Zoom! Just click the links below to attend classes every Saturday at 4 pm & 5 pm. Choose a time that works for you.
Click the links below to attend a session of your choice.
Register for 4 pm class or Register for 5 pm class
For more information about Breathe Deep Within visit breathedeepwithin.com. You can attend classes from the website by clicking on FREE ONLINE CLASSES.
Sponsored by the Backyard Community Health Hub and The Cultural Wellness Center.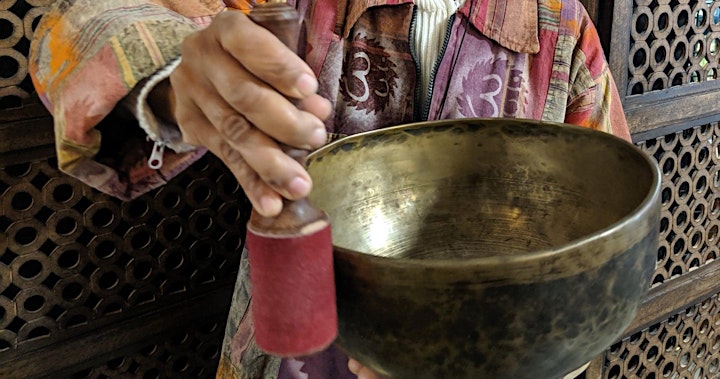 Organizer of FREE Online Saturday Meditation and Sound Healing with Breathe Deep Within