A free opportunity for new lightworkers to get insight into a variety of spiritual topics presented online over zoom
About this event
This is an incredible event you don't want to miss, and it's free of charge!
Please join International Spiritual Teacher and Author, Aerin Kube, as she hosts a FREE Psychic and Holistic Fair for the newly beginning lightworker over Zoom with the assistance of International Psychic Medium, Tina Panteli.
Watch and learn from the comfort of your home as if you were attending a live event. Currently, there is over 14 presenters scheduled from all over the world that are willing to share introductions into their professions. Students will receive a sample from a variety of spiritual, holistic, psychic and mediumship topics.
We welcome you to this event, which will provide love, healing, inspiration, and spiritual teachings to get you started on your journey.
Helpful Information For Attending: This will be like attending a live event or demonstration in your town, except it will be online, and you attend from home. Please note that your full participation and attention during the event are appreciated.
Lastly, this registration system should provide you with direct access to the event. You will need to open the email to click on the event link prior to the start of the event. You may or may not need to download Zoom Cloud Meeting. It is a free application that can be downloaded to any electronic device.
TOPICS INCLUDED :
Animal Communication
Spirit Portraiture
Meditation
Stress & Spirituality
Trance Mediumship
Reiki Healing
HOMA Therapy
Oracle Cards
Chakras & Clairs
Christianity & Abilities
Psychic & Tarot
Evidential Mediumship
Healing Past Traumas
Spiritual Discussions and More
More About Aerin Kube: Aerinkube.com
For more information or questions, please contact the Event Organizer, Aerin Kube at Email: aerinkube@gmail.com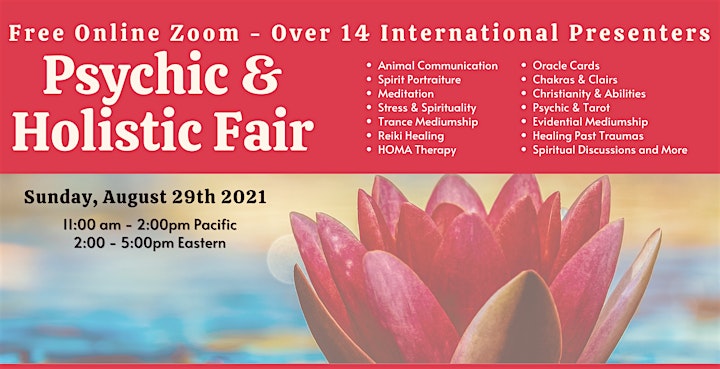 Organizer of Free Online Psychic and Holistic Fair For The New Lightworker
Aerin Kube - Parapsychologist, Author, Psychic Medium & Mentor and Spiritual Web Designer
Aerin earned a Ph.D. in Metaphysics and Parapsychology from the Univ. of Metaphysical Sciences, a non-secular college in CA, accredited by the American Alternative Medical Assoc. and the American Assoc. Of Drugless Practitioners. She has also trained under many renown spiritual leaders, including James Van Praagh.
Before the unfoldment of her spiritual journey, she worked in corporate America. Having attended secular colleges and universities she received degrees in business and liberal arts. Her knowledge and strengths come from her experience in teaching, writing, counseling, real estate, marketing, theater, and public speaking, as well as her past as a successful entrepreneur of a renowned multi-location operation for expectant families around Michigan.
Ordained, she holds certifications in Reiki, IET, life coaching, and mediumship. Her passion is psychical studies, philosophy, and helping others see the light within them.