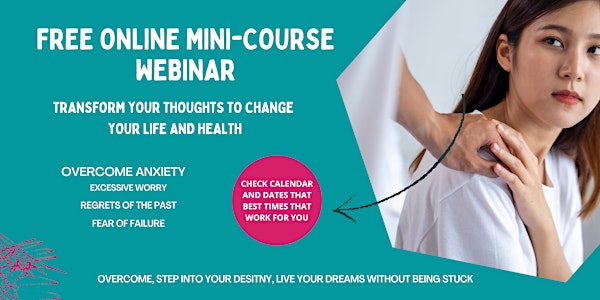 FREE Online Mini-Course "Transforming Your Thoughts to Change Your Life"
Are you tired of being stuck in anxiety? Learn the Lord's way to overcome negative thoughts that drive anxiety, stress, worry, & depression.
About this event
Are you tired of well-meaning friends and family advising you "Just pray more" "Stop worrying so much" or "Calm down?" Doesn't that get old hearing the advice of others leave you feeling defeated and ashamed? I can relate because I used to suffer from anxiety. Those who don't suffer from anxiety don't understand that there is a cause contributing to a person's anxiety, including physical, emotional, mental, and spiritual causes. You will learn that today in this course.
You can better understand what anxiety is, how it is manifested, what causes it, and what steps can be taken toward understanding healthy solutions.
Covered in the mini-online course:
- Learn the importance and how to renew the mind according to scripture
- My personal story of overcoming guilt and anxiety
- Learn where thoughts come from
- What are Strongholds – spiritually and biologically and how it ensnares and keeps you stuck
-Learn how core beliefs affect thoughts, attitudes, and behaviors
- Scientifically (biologically) – neuro brain science what long-term fear does to our brain and health
- How to discern thought and not accept it
- and more
Watch the introductory video...