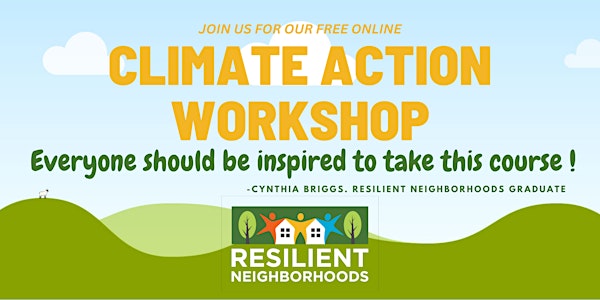 Free Online Climate Action Workshop - Marin County
CREATE A LOW-IMPACT HOUSEHOLD WITH RESILIENT NEIGHBORHOODS!
By Resilient Neighborhoods
Date and time
Starts on Wednesday, June 14 · 4pm PDT
About this event
RESILIENT NEIGHBORHOODS CLIMATE ACTION PROGRAM - 5 MEETINGS
FREE FOR MARIN COUNTY RESIDENTS!
The Resilient Neighborhoods Climate Action Workshop series will help you create a resilient, efficient, healthy, and low-impact household.
TEAM #120— Wednesdays 4:00-6:00 pm
Meeting 1: Wednesday, June 14
Meeting 2: Wednesday, June 28
Meeting 3: Wednesday, July 12
Meeting 4: Wednesday, July 26
Meeting 5: Wednesday, August 9
When you join a climate action workshop, you will become part of an online team that meets five times over ten weeks.
You'll start by calculating your starting household carbon footprint, and then over the course of the program, take effective, measurable, and money-saving actions to reduce it by at least 5,000 annual carbon pounds of emissions.
We offer a menu of over 100 actions to trim household energy and waste, shift to renewable energy, conserve water, utilize low-carbon transportation, and more.
You'll also learn how to get prepared for climate-linked emergencies such as wildfires, droughts, and power outages, and build a stronger, safer, and healthier community.
At the end of the program, you will have an online personalized climate action plan to continue with over the next year, and years to follow.
All you need to participate is a computer with good access to the internet. The workshop is free and registration is required.
Plan to attend all 5 online meeting dates. (However, if you need to miss a meeting, you can make arrangements to watch the Zoom recording).
PLEASE NOTE: At this time, the program is open to Marin County residents only.