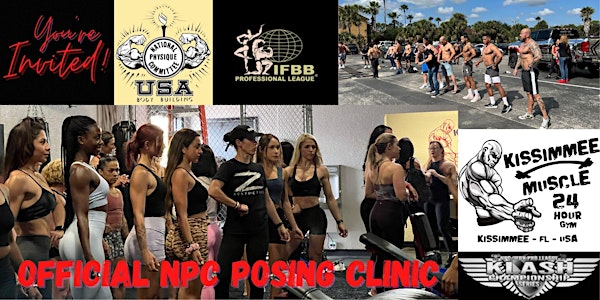 FREE Official NPC Posing Clinic 2023
FREE Official NPC Posing Seminar Advance Registration & car pooling are suggested. We are expecting hundreds of attendees.
When and where
Location
Kissimmee Muscle Gym 4636 West Irlo Bronson Memorial Highway #Suite A Kissimmee, FL 34746
About this event
NPC Florida Team presents...
FREE Official NPC Posing Seminar at Kissimmee Muscle 24 Hour Gym
4636 W Irlo Bronson Memorial Hwy, Kissimmee, FL 34746
February 18, 2023 10am start time
Join us for instruction by @mrolympiallc and @ifbb_pro_league athletes, judges, promoters, and training teams from around the USA! Learn, avoid mistakes, and be ready for 2023 and beyond! We look forward to seeing you @kissimmeemusclegym!
All are welcome, beginners to advanced.
Stay & Train - 1/2 price Gym Training Day Pass for all attendees right after the seminar
Information about Florida 2023 Competitions
Special Guest Instruction from industry leaders and world-class athletes!
Confirmed so far: Women's Physique Olympia Champion Natalia Coelho @ifbbpronataliacoelho; Wellness Olympia 2nd Place Winner Isa Pereira Nunes @isapereiranunes & 3rd Place Winner Angela Borges @angelaborgeswellness; Men's 212 Olympia 3rd Place Winner & 2019 Champion Kamal Elgargni @ifbb_pro_kamal_elgargni; Women's Physique Olympia Competitor Rachel Daniels @ironheroine; Bikini Olympia 4th Place Winner Daraja Hill @darajaweid; Bikini Olympia Competitor & 2020 Champion Janet Layug @janetlayug; Bikini Olympia Competitors Brittany Hamilton @britthamilton_ifbbpro, Jordan Brannon @jayybrannon_ifbbpro, Jodie Yuncker @jodiejfit_ifbbpro; Men's Physique Olympia Competitor Carlos DeOliveira @caikepro; Fitness Olympia Competitor Tamara Vahn @tamaravahn
IFBB Pros (Men's Bodybuilding) Jason Lowe @ifbb_broku; (Figure) Courtney Jacobs @gunsnbuns13 & Latoya Farley @latoyiafarley, (Bikini) Lauren Dannenmiller @laurendannenmiller, Jessica Miller @msfitmiller, Mary Ann Parks @maryann_ifbbpro, Jenn Sulewski @jennsulewski_ifbbpro, Marissa Nicole Bell @marissanicolebell; (Men's Physique) Leo Mackesy @ifbb_pro_leo, Alex Toplyn @alextoplyn
Bodybuilding Legend Jimmy Mentis @jimmymentis1
IFBB Pro League & NPC Judges & Promoters Joe Pishkula @klash_championship_series, Deb Callahan @thedebsgym, Deke Warner @national_judge_dennis_warner, David Herskovitz @dherskie, Ty & Joanna Pope @npctypopeclassic, Ed & Betty Pariso @visionstarinc, Nikki Albright @trickster00, Holly Beck @hollybeckifbbpro, Stacy Taylor @thesleestak
And MORE TO COME!
Media coverage by the exclusive & official media outlet:@npcnewsonline official page
Florida NPC pages: www.floridanpc.org and @npcfloridaofficialpage
Inquiries contact: kissimmeemusclesister@gmail.com