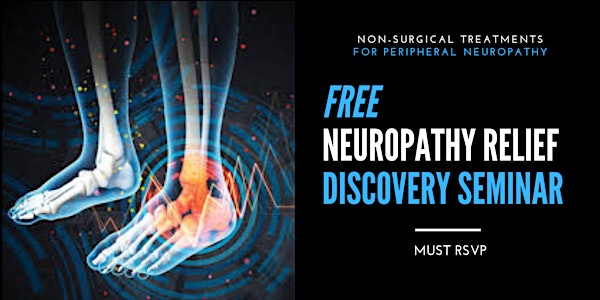 FREE Neuropathy Relief Discovery Seminar - 7/25/19
Location
Virginia Laser Therapy
5130 Duke Street, # 114
Alexandria, VA 22304
Description
ARE YOU (OR A LOVED ONE) SUFFERING FROM ANY OF THESE SYMPTOMS?
Pain

Numbness

Tingling

Electrical shock-like pain

Burning

Balance Problems

Hurts to walk

Hurts to get in/out of your car

Cramping

Trouble Sleeping
REGISTER FOR THIS EVENT NOW TO LEARN ABOUT THE #1 NON-SURGICAL TREATMENT THAT HAS BEEN CHANGING LIVES FOR PEOPLE WITH PERIPHERAL NEUROPATHY... RIGHT HERE IN MANASSAS:
* Food is included!
* Free Peripheral Neuropathy Report will be handed out to all attendees!
WHY SHOULD YOU ATTEND THIS EVENT?
Either you or someone you know is suffering from peripheral neuropathy

You're looking for an effective solution that does not inlclude drugs or surgery

You're tired of choking down pills that make you not feel like yourself

You're concerned about what this condition will develop into in the future if not treated properly
HERE'S WHAT YOU'LL LEARN AT OUR SEMINAR:
What Peripheral Neuropathy (PN) is exactly...

What causes PN and why...

How our advanced methods - that are totally painless - will increase blood flow and encourage nerve regeneration

What procedures are covered by insurance

Whether you are a good candidate
**Dr. Sarah Cassou will be your speaker. Dr. Cassou owns 4 clinics in the area and is at the absolute forefront of treatment for Peripheral Neuropathy as well as other chronic conditions. You won't want to miss this rare event!
REGISTER TODAY TO FINALLY GET A SOLUTION TO YOUR PERIPHERAL NEUROPATHY!
*Up to 1 guest is allowed to attend with you!
**Must RSVP to attend
***Must be 18 to attend