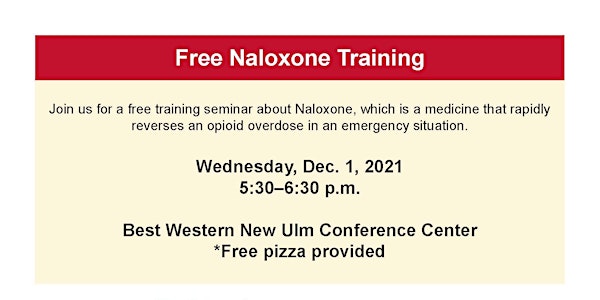 Free Naloxone Training
Please join us for a free Naloxone training.
When and where
Location
New Ulm Conference Center - Best Western 2101 South Broadway Street New Ulm, MN 56073
About this event
Join us for a free training seminar about Naloxone, which is a medicine that rapidly reverses an opioid overdose in an emergency situation.
• You'll learn detailed information about Naloxone, including how and when it can properly be used to reverse an overdose. Naloxone can quickly restore normal breathing to a person if their breathing has slowed or stopped because of an opioid overdose.
• The training is open to both the general community and addiction treatment professionals.
Free Pizza will be provided.
PresenterMark Griffith is executive director of South Central Minnesota EMS System, which provides EMS education and medical direction to ambulance, fire and law enforcement agencies in the South Central region of Minnesota. Mark received his EMT certification in 2002 and currently volunteers for Le Center, MN Ambulance. He holds a bachelor's degree in Emergency and Disaster Management and a master's degree in Nonprofit Organizational Management.