FREE MPCA Smart Salting for Parking Lots and Sidewalks

Thursday, August 6, 2020 from 8:00 AM to 1:30 PM
Event Details
This class is a FREE opportunity to get certified!
Event Details: THE MPCA Smart Salting training offers information about best practices for managing winter maintenance (plowing, de-icing and anti-icing application, storage, and more). These practices will help you save money, time, and the environment! An optional test is offered at the end of the workshop to earn Minnesota Pollution Control Agency (MPCA) Level I Certification in Winter Maintenance Best Practices. Certified Individuals are listed on the MPCA website.

Who should attend:
Contractors

Property Managers

Distributors

Snowplow Drivers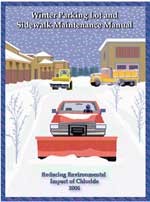 Training topics:
Application Rates of Materials

How to Calibrate Equipment

Weather Conditions

Storing Materials

New Maintenance Methods

De-Icing and Anti-Icing

Environmental Effects

 Legal Issues and Additional Resources
There will also be a Smart Salting for Roads on August 6th. For more information and registration click here.
If you have any questions, you can contact Jessica Jacobson at jessica@fortinconsulting.com

Funding for these workshops is provided by MPCA through a grant from US EPA, Section 319 Nonpoint Source Management Fund, and matches from local partners.