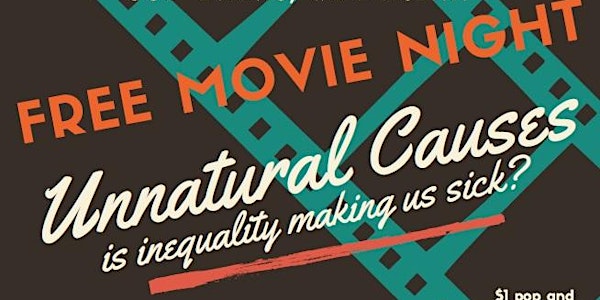 FREE Movie Night! - "Unnatural Causes, Episode 1: In Sickness and In Wealth...
Event Information
Location
Harbor Cinema
3450 Henry Street
Muskegon, MI 49441
Description
Join us for the opening 56-minute episode, "In Sickness and In Wealth," from the acclaimed seven-part series "Unnatural Causes" documentary, followed by a facilitated discussion. For the first time on television, this series sounds the alarm about our huge and disturbing socioeconomic and racial/ethnic disparities in health – and searches for their root causes. But those causes are not what we might expect.
Compared to other countries, the U.S. has the greatest income inequality – and the worst health. Today, the top one percent of Americans owns more wealth than the bottom 90% combined. Economic inequality is greater than at any time since the 1920s. One out of every 5 children in the U.S. lives in poverty (21%) compared with approximately 4% of Sweden. Social spending makes up most of the difference: in Sweden, social spending reduces child poverty by 70%, while in the U.S. it reduces child poverty only 5%, down from 26%.
While we pour more money into drugs, miracle diets, and new medical technologies – and focus prevention efforts solely on what individuals can do to be healthier – Unnatural Causes crisscrosses the country investigating the growing body of evidence that suggests there is more to our health than bad habits and unlucky genes. In doing so, it circles in on a slow killer in plain view: The social circumstances in which we are born, live, and work can actually get under our skin and put us at risk for stroke, heart disease, asthma, hypertension, diabetes, kidney disease, and even cancer. Note that the series does not simply illustrate differential health care access and treatment, but why some populations get sicker more often in the first place, i.e., the role of inequality, racism, poverty, segregation, and neglect in breeding disease and despair.
The opening episode travels to Louisville, Kentucky, not to explore whether medical care cures us but to see why we get sick in the first place, and why patterns of health and illness reflect underlying patterns of class and racial inequities.
Date and time
Location
Harbor Cinema
3450 Henry Street
Muskegon, MI 49441