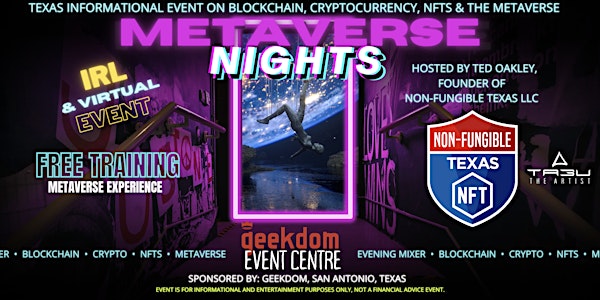 FREE: Metaverse Nights - Texas l NFT Fashion•Art•Music w/ TABU the Artist
Join our FREE LIVE event to learn about Web3 Technologies, such as Blockchain, Cryptocurrency, NFTs, and human-interaction in the Metaverse.
When and where
Location
Geekdom Event Centre 131 Soledad Street San Antonio, TX 78205
About this event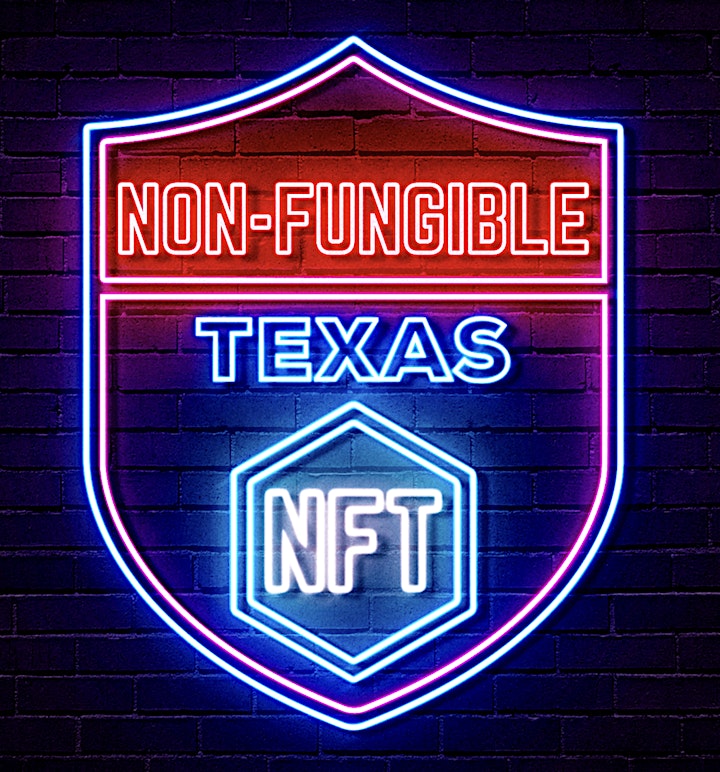 NON-FUNGIBLE TEXAS LLC WELCOMES YOU TO THE METAVERSE!
Come learn Web3 with us at 'Metaverse Nights - Texas' with Non-Fungible Texas LLC's founder and futurist Ted Oakley (TABU the Artist) - sponsored by Geekdom San Antonio!
• When: 7:00-9:00 pm Central (Chicago) Time US, every month (2022)
- 27 Aug 22
- 17 Sep 22
- 27 Oct 22
- 19 Nov 22
- 17 Dec 22
• Where: FREE Virtual and In-Person Session (link provided 24 hours prior to event), Join our webinar from anywhere. FREE In-Person at Geekdom Event Centre, 131 Soledad St, San Antonio, TX 78205 (Must Register to Attend Virtual or In-Person, no Walk-ins)
• ATTENDEE BONUS: FREE Proof of Attendance Protocol (POAP) provided during night of attendance.
TOPICS COVERED BY TED OAKLEY & MONTHLY GUEST SPEAKERS (not all inclusive):
- Basic understanding of the metaverse, such as blockchains, cryptocurrencies, wallet security, DeFi, Non-Fungible Tokens (NFTs), cryptogaming, phygital fashion, art & music NFTs and other technologies directly related to the blockchain such as Smart Contracts, dApps and metaverse immersive tech such as AR/VR/MR/XR.
- Enter a Non-Fungible Texas Metaverse Experience that will introduce you to a virtual world of "utility" in the genres of fashion, art and music!
- How you can access core information developed by Ted Oakley and his subject matter experts to increase your foundational knowledge on blockchain, crypto, NFTs, and the metaverse.
Visit, sign-up and "follow" Ted Oakley at Non-Fungible Texas' website and LinkedIn page for more information:
https://twitter.com/NonFungibleTX
https://www.nonfungibletexas.io
https://www.linkedin.com/company/non-fungible-texas/
• Complimentary pizza and beverages will be available starting at 7:30 pm (for a limited time)
• 21-year and older event.
• All attendees are encouraged to utilize COVID-19 precautions as directed by the Center for Disease Control (CDC).
• Dress Code: Come as you are.
NON-FUNGIBLE TEXAS LLC, a METAVERSE WEB3 COMPANY.
Leading innovation in the WEB2-to-WEB3 industry for government & small-to-medium business disruptors.
BONUS REFERRAL LINKS:
• Create a Get $25 of free crypto at Crypto.com with referral link:
https://crypto.com/app/xwxn2jue2s - sign up and get $25 USD!
• $10 in Bitcoin is waiting for you! To claim, use this link to sign up and make a trade:
https://coinbase.com/join/oakley_nxb?src=ios-link
Parking Options (prices may fluctuate)
* City Parking Lot -Mon-Sat; 8am-6pm $1.80/hr; Free parking Mon-Sat 6pm-8am & all day Sunday. Located 4 blocks from Geekdom, 403 N Flores St.
* Rand Garage: $4/hr, or $8 day validations can be purchased through Geekdom. Located at 129 Soledad St, attached to Rand Building
* City Tower Parking: $10 flat day rate. Located one block from Geekdom at 60 N Flores St.
* Central Library Garage: $5 flat day rate. Located at 600 Soledad St. 7 blocks from Geekdom
DISCLAIMER: Non-Fungible Texas LLC "Company" and ANY of its participating members, officers, or guest speakers do not provide financial advice. We are not a licensed financial investment firm nor do we invest your money. The information provided by the Company should only be considered as informational and for informational use and entertainment purposes only. Do not take any information herein, or information at Non-Fungible Texas LLC or TABU the Artist (TABU) events as financial advice. Do your own research. You should not buy blockchain assets, cryptocurrencies or non-fungible tokens unless you are prepared to sustain a total loss of the money you have invested plus any commission, royalty, or other transaction fees. Consult a professional investment advisor before making any investment decisions. Company social media posts, including posts from its members or officers are not investment advice and are for informational and entertainment purposes only.