FREE Math Tutoring (Integrated Math 1 & 2, Algebra, Geometry, & Algebra 2) for Riverside County Residents
About this event
Strengthen your understanding of math, raise your grades, get help with homework, or get a head start on preparing for finals with us!
My Learning Studio OUTREACH is offering FREE virtual tutoring and limited in-person tutoring from November 8th until December 16th, 2021. Subjects include Integrated Math 1 & 2, Algebra, and Geometry.
Monday, Wednesday, & Thursday 7:00 pm
Virtual tutoring is available for all Riverside County residents and includes screen sharing, live chat, breakout rooms, and more.
Limited in-person tutoring is currently available in Riverside at My Learning Studio, 17086 Van Buren Blvd. @ Washington Street with seniority to qualified students. We will inform you which days are available at 7:00 pm.
A qualified student is a student/family that is low-income, foster, adopted, court-appointed, at-risk HS students, and those affected financially by COVID-19. However, if there's space left any Riverside County resident is welcome.
As funding comes in, we will be adding Corona and Moreno Valley locations for in-person. In addition, Saturday tutoring will be added as enrollment increases.
Pre-register now at MyLearningStudio.org. First come, first served.
For questions, reach out to My Learning Studio at (951) 789-5402.
Funding for this project has been made possible by Riverside County Supervisors.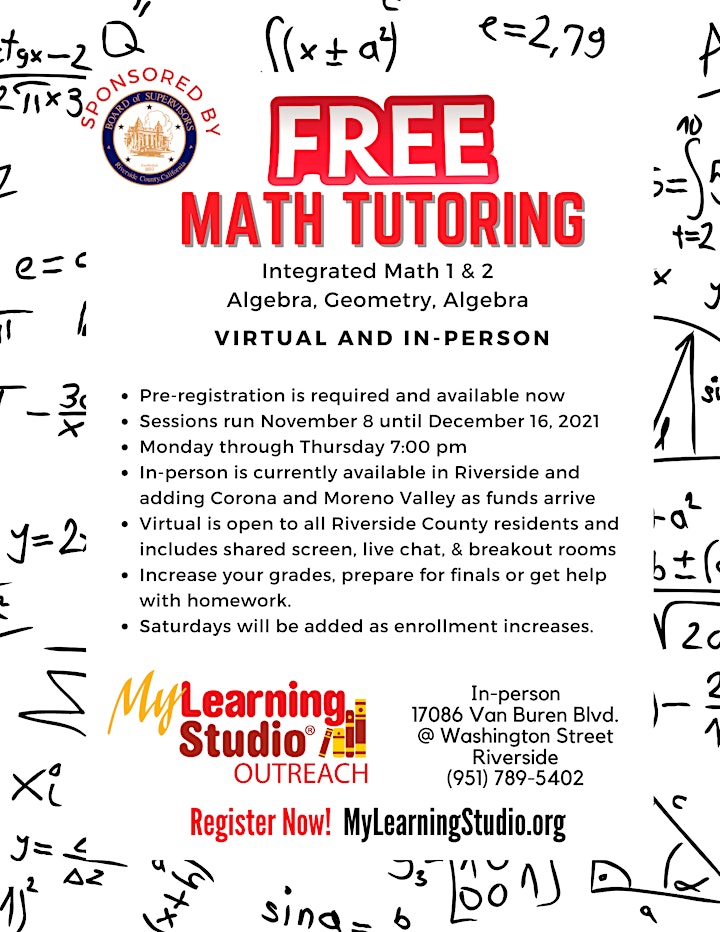 Organizer of FREE Math Tutoring