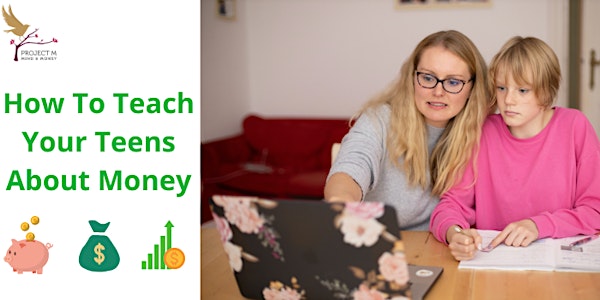 FREE Masterclass: How To Teach Your Teens About Money
Let's Teach Your Teens About Money. Give Them a Lifeskill They Will Need to Thrive in the Real World!
About this event
Teaching our kids about money is about giving them a lifeskill that they will need to thrive n the real world. When our school system isn't providing this essential training, we as parents can take this matter into our own hands.
Talking about money isn't easy. Most of us weren't taught about money when we were kids, so we lack the vocabularies as well as a structure to frame our money conversations.
Join this FREE Masterclass to learn:
- the Money Language
- the Mindset for Being a Role Model
- the Structure for Having Money Conversations
- the Essential Skills Your Teens Must Have Before Leaving Home
Together, let's empower our kids with a critical lifeskill so they can thrive in any economic conditions.
Register at the link below
August 5th, 9am - 10am PST https://us02web.zoom.us/meeting/register/tZcsdOqoqD0oHtYkTJdCImMBDCv5Pb-E98c4
August 18th, 9am - 10am PST https://us02web.zoom.us/meeting/register/tZ0odeuupjIuHNAJtJKEfdpZxtROlikd_6zb