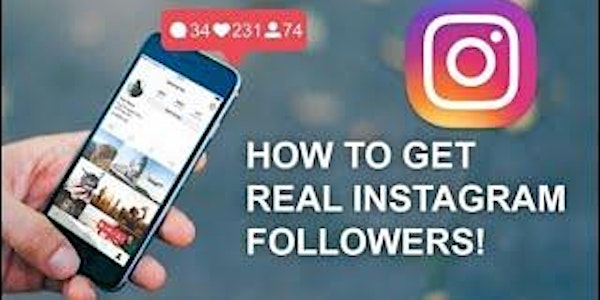 Multiple Dates
[Free Masterclass] Get More Targeted Instagram Followers in Sacramento
Increase Your Instagram Followers Safely Without Spending Money On Ads. Bring In More Clients, Sales, Phone Calls, etc. From Instagram
About this event
Are you tired of struggling to get Instagram followers and engagement?
Increase your Instagram followers without spending money on ads.
Learn how to gain Instagram followers fast and safely by using new organic growth methods that the Instagram algorithm loves.
Register for the free masterclass at https://seooptimizers.com/masterclass
Brandon Leibowitz (https://www.linkedin.com/in/brandonleibowitz), the founder of SEO Optimizers, is hosting this special workshop.
Brandon will share his knowledge, tips, and techniques that he has acquired over the past 14 years.
Learn how Brandon ranks his own websites along with his client websites for hyper-competitive keywords that convert into clients, sales, leads, phone calls, etc.
Gain the knowledge to do Instagram marketing yourself.
If you hire a company to manage your Instagram marketing, we will teach you how to find a reputable company.
If you are a professional who is trying to change careers, then this free workshop will help give you a head start.
Register for the free masterclass at https://seooptimizers.com/masterclass
Organizer of [Free Masterclass] Get More Targeted Instagram Followers in Sacramento
Learn from experienced SEO specialists (Brandon Leibowitz) the techniques used to help accelerate their client's business into a success.
SEO Optimizers training courses have taught thousands of business professionals how to improve their online marketing skills.
Whether you're new to online marketing or a seasoned veteran, our courses are designed to cover a variety of topics at all levels.
Learn how to increase the bottom line of any business with our proven techniques.
Live sample tests & an open panel for questions will help you prep for Google certification exams. 

All courses are taught by Brandon Leibowitz (https://www.linkedin.com/in/brandonleibowitz)