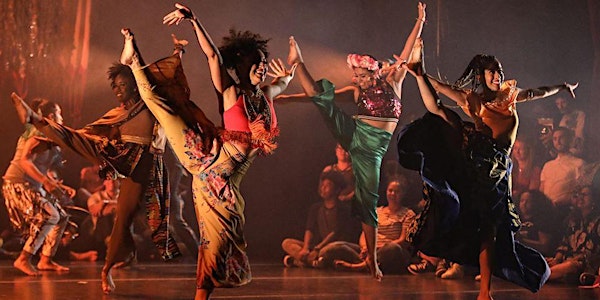 FREE Master Class by Contra-Tiempo
FREE Master Class by Contra-Tiempo hosted by Desert Dance Theatre ~ Sponsored by ASU Gammage BEYOND SERIES
When and where
Location
Dance Theatre West 3925 East Indian School Road Phoenix, AZ 85018
About this event
Desert Dance Theatre is hosting a FREE Master Class by Contra-Tiempo
Sponsored by ASU Gammage BEYOND SERIES
Monday, February 10, 2020 at 6:00pm-7:00pm
Dance Theater West, 3925 E. Indian School Road, Phoenix, AZ 85018
RSVP is Required as Space is Limited. First Come First Serve Basis.
INFO: Contact Lisa@DesertDanceTheatre.org or text 602-740-9616.
Instructor - Stanley
Jasmine Stanley, who goes by Stanley, started taking ballet when she was 5 years old in Annapolis, MD. Through the years, she attended different dance studios allowing dance to grow into her passion, especially after her family moved to Wake Forest, NC. There she explored multiple ways to move her body in ballet, tap, jazz, hip-hop, and modern classes. In college, she grew into her own identity as a mover and as a choreographer, ultimately earning a B.A. in dance from Columbia College in Columbia, SC. She first experienced dance as social action in 2013 when she was given the opportunity to dance with Vincent Thomas and his restaging of "Take Off…" an excerpt of a larger work titled "Occupy". She was so moved by the power that movement can have over audiences. After attending summer programs outside of her hometown, she was exposed to even more styles including West African, Dunham, Rumba, Horton, Graham, and salsa. She was selected by Debbie Allen to perform with Stevie Wonder live at the Special Olympics World Games in 2015. In 2017, she performed with Unveiled Dance Company at the Journey Out Awareness Festival to support the movement to end human sex trafficking. When Stanley first learned about CONTRA-TIEMPO in school, she became curious about their mission and movement. After moving to Los Angeles in the Summer of 2017, she attended the CONTRA-TIEMPO Futuro Summer Dance Program where she saw her own personal values and mission align, and in September of 2018 Stanley was asked to join CONTRA-TIEMPO as a company member.
Instructor - Charlie Dando
Charlie Dando is a House dancer from the front range area of Denver. Dance found Charlie at a preteen club night, where he won numerous youth battles. Around 1999 Dando started training in funk styles and hip-hop at Motion Underground in Boulder, CO with local BBoy crew GWT, as well as many Hip Hop legends including; Mop Top/Elite Force crew, Gary Kendall of the Jabbawockeez, Calef Sellers of Dance Fusion and Moncel Durden The Phili House Dance pioneer whom Dando lovingly calls "Dancestor". In 2006 Charlie was a founding member of a BBoy Choreography Crew called Break EFX, they pioneered their community forward, winning many awards, battles, and competitions. Break EFX appeared on the 5th season of ABDC. In 2009 Charlie attended the University of Colorado Boulder and studied for a BFA in dance, specializing in House and Hip-Hop History and performance improvisation. Dando was selected to perform with Rennie Harris Pure Movement for the premiere of the "Rite Of Spring" adaption, "Heaven". In 2014 Dando moved to LA and started working with Tiffany Bong at UniverSoul Hip Hop, Teaching House and Club Dance History to thousands of students a year throughout the LA area. Today, Dando is an active member of the local House community as well as teaches and battles internationally. Dando is honored to represent House and Hip-Hop Culture in CONTRA-TIEMPO's joyUS justUS.
CONTRA-TIEMPO with live music by LAS CAFETERAS  in " joyUS justUS" presented by ASU GAMMAGE BEYOND SERIES
February 15, 2020
Info & Tickets: https://www.asugammage.com/shows-events/contra-tiempo
CONTRA-TIEMPO returns to ASU Gammage with joyUS justUS. This urban Latin dance theater experience takes on joy as the ultimate expression of resistance. Whenever humans have survived immense hardship and injustice, prevailing with their humanity intact, the presence of joy has always been at the root. joyUS justUS reclaims the dominant deficit--based narrative of people of color in this country as being underprivileged, voiceless, powerless, and victimized, and flips it on its head by embodying stories of joy.
REASON TO SEE IT: The combination of the athletic, expressive and rhythmic dances of CONTRA-TIEMPO with the irresistible charm and musical energy of Las Cafeteras is a powerful mix and message that will have you on your feet in no time.