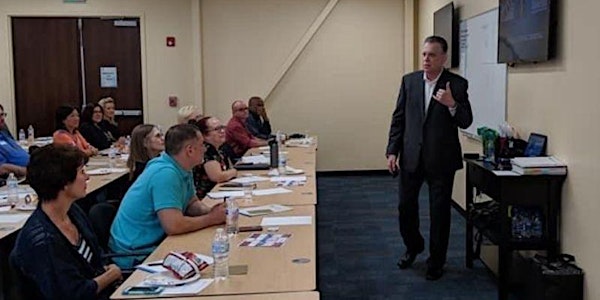 FREE LUNCH & LEARN: IDENTITY THEFT & CYBERCRIME IN THE REAL ESTATE MARKET
An extensive look at how Identity Theft & Cybercrime directly affects Realtors and Real Estate market. The Problems, Dangers, & Solutions.
By Gary Kasper, CEO Identity Theft Solutions, Powered By IDSHIELD
Date and time
Tuesday, April 11 · 11:30am - 1:30pm CDT
Location
T-Werx Coworking Four Points 10815 Ranch Road 2222 Bldg 3B, #100 Austin, TX 78730
About this event
Join Gary Kasper, " The Identity Theft Coach ". An Expert, Author, & Keynote speaker as he shares his journey from being a victim of Identity Theft facing 2-20 years in a state prison to today being one of the most requested speakers on consumer Identity Theft. He has created an education program where individuals and business owners, such as Realtors, Brokers, and Mortgage Agents can learn exactly about these two vicious and fast-growing crimes along with how it will affect them at all levels. Two crimes you can no longer afford to ignore or wait to see if it's going to happen.
Information you will gain from attending:
1. Exactly what Identity Theft and Cybercrime are.
2. How the two crimes affect you personally and professionally.
3. Different types of Real Estate Identity Theft and Fraud.
4. How your Real Estate business is directly affected.
5. The long term and negative effects of these crimes if ignored or not taken seriously.
6. Being prepared, once you become a victim.
What you will receive:
1. Valuable information you can use immediately.
2. A tasty and expertly prepared lunch by a chef.
3. A "FREE "copy of my EBook: Dangers of Identity Theft and How to Protect Yourself
4. A FREE 30-minute consultation with an expert to explore your immediate dangers.
5. An opportunity to network with other professionals afterwards.
It's just one hour of your day, where you can Learn, EAT 😊, and possibly meet your new client or business partner.
REALTORS: TREC Course: #42916, 1 Hour Credit. (Impact Leadership Group)
KNOWLEDGE IS FREE, BECOMING A VICTIM IS EXPENSIVE, BEING PREPARED IS PRICELESS!
About the organizer
Gary & Yulanda Kasper have been Identity Theft experts for 10+ years. Assisting companies, small businesses, families, and individuals in learning and preparing for identity theft. After learning he had become an identity theft victim in 2013, Gary personally experienced the stressful and near impossible conditions it took to fully restore his identity. Identity theft Solutions was born. It's mission to insure people fully understand what identity theft is, the seriousness of the crime, and just how it can and will affect you once you become a victim.