Sales Have Ended
Registrations are closed
Due to demand additional date added. September 25, 2019. To attend to our September 25, 2019 Lunch and Learn event, please visit the following link to register: https://www.eventbrite.com/e/free-lunch-learn-how-to-achieve-operational-excellence-using-office-365-tickets-72329340003
Sales Have Ended
Registrations are closed
Due to demand additional date added. September 25, 2019. To attend to our September 25, 2019 Lunch and Learn event, please visit the following link to register: https://www.eventbrite.com/e/free-lunch-learn-how-to-achieve-operational-excellence-using-office-365-tickets-72329340003
About this Event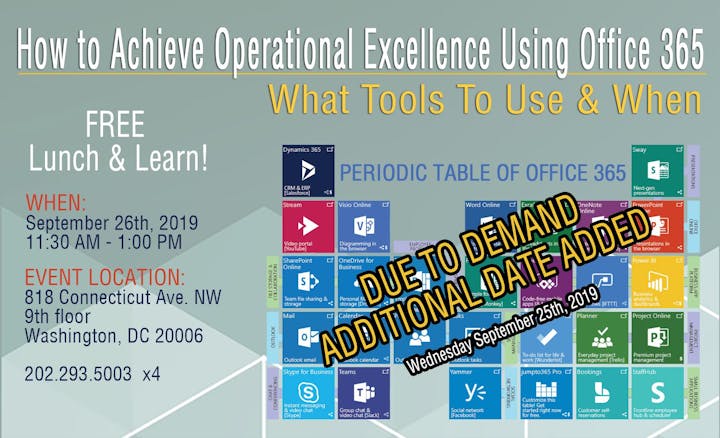 You are invited to a Lunch & Learn event! This is the ONE event you do NOT want to Miss! You will leave armed with a tool that you need to increase your operational excellence!
The Project Management Office Division of MadWolf Technologies, is pleased to invite you and your colleagues to our FREE Lunch & Learn session: How to Achieve Operational Excellence Using Office 365 – What Tools To Use & When.
With technology changing the business landscape, organizations are seeking innovative ways to increase loyalty and competitiveness. Several years ago, MadWolf Technologies began developing a Managed Services offering for SharePoint. Not too long after we began providing Managed Services for SharePoint customers, we started offering them to our Office 365 customers as well. Right from the start, MadWolf Technologies noticed the type of support we were providing to our Office 365 customers was a bit different than what we were providing to SharePoint customers … it was more proactive in nature. While we certainly did (and still do) receive requests to help with a critical configuration issue or problem, the nature of our customer interactions was more about helping improve their Office 365 user adoption, providing training, and aiding with small projects to continuously improve end-user solutions.
MadWolf Technologies has been growing along with the Office 365 platform; and, approximately a year ago, our service began evolving in a few notable new ways: Clients began asking us about the new features and tools in the Office 365 platform, questions like: How does Planner differ from Trello, What is Delve all about, and Should I use Teams? Our customers were overwhelmed with the pace of innovation in the platform. They wanted to know what was new – from Teams to Project Online and Planner to SharePoint and OneDrive to Exchange and PowerBI to Flow, Yammer, and PowerApps – and how what was new pertained to them. They also wanted to know if anything major changed (hello modern document libraries), so they could provide users with ample lead time and deliver the required training. Clients also told us they wanted to improve user adoption and make sure the Office 365 platform was being used effectively without exposing the organization to security breaches.
THIS IS EXACTLY WHAT WE WILL BE DISCUSSING IN THIS FREE LUNCH & LEARN EVENT. BE SURE TO RESERVE YOUR SPOT TODAY!
MadWolf Technologies realized that each client tends to use Office 365 tools and functionality in a different manner. This fact alone makes it close to impossible to come up with a consistent, known set of tasks. The big difference between these application services and what we provide for Office 365 comes down to the fact that Office 365 is not an application, but a platform. For some businesses, this means providing a document management solution, other companies may need help with a project portal for collaboration, and yet others may need assistance with a knowledge management platform built on SharePoint. Users who collaborate on a SharePoint project or Team site use the platform in different ways.
YOUR TAKE-AWAY FROM THIS FREE LUNCH & LEARN WILL BE ACCESS TO A FREE TOOL TO HELP YOUR ORGANIZATION INCREASE ITS OPERATIONAL EXCELLENCE!
The Cloud Commander in Office 365 Begins: This year we rebranded part of our managed service offering to The Cloud Commander in Office 365 (CCn365). This provides a better description of not only the solutions we provide, but also more importantly, what organizations need in order to maximize their Office 365 capabilities. Office 365 is a robust and extendable platform, that if implemented and governed correctly, can make a tremendous difference in operational excellence in an organization. Our CCn365 approach is designed to increase user adoption, help set up and manage an Office 365 governance plan, provide support for ongoing questions and issues, and help our customers deploy platform features to modernize your business operations to support the new speed of business.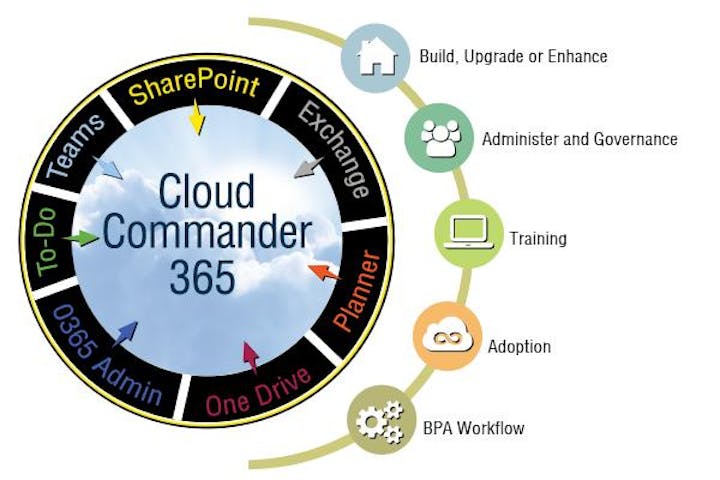 MadWolf Technologies are not just keeping things running, as Microsoft handles that for you with Office 365. Our whole focus is helping you get the most value from the platform and increase the value you receive from your investment. We start with Strategy, Governance, and Architecture, and then tactically provide Training, Administration, and Support.
LEARN MORE ABOUT THE CLOUD COMMANDER IN OFFICE 365 BY CONTACTING US TODAY.
Register today!
Please join us on: Thursday, September 26, 2019 11:30 AM - 1:00 PM
818 Connecticut Ave NW 9th floor Washington, DC 20006 202-293-5003 X4