Description
GRAMMY-NOMINATED LOST BAYOU RAMBLERS WAS FORMED IN 1999 BY BROTHERS ANDRE AND LOUIS MICHOT, PERFORMING THE ROOTS CAJUN MUSIC THEY LEARNED AS MEMBERS OF LES FRÈRES MICHOT, THE FAMILY BAND THEIR FATHER AND UNCLES FORMED IN THE 80'S. THE BROTHERS QUICKLY BEGAN PLAYING CLUBS AND FESTIVALS AROUND LOUISIANA, AND TAKING THE TRADITIONAL MUSIC THEY WERE RAISED WITH TO NEW LEVELS OF RHYTHMIC ENERGY AND SPONTANEITY, PRODUCING THE PUNK AND PSYCHEDELIC LABELS GIVEN TO THE BAND BY REVIEWS OVER THE YEARS.
IN 2012, WITH 5 ALBUMS UNDER THEIR BELT, INCLUDING A GRAMMY NOMINATION FOR THEIR 2007 RELEASE LIVE A LA BLUE MOON, THE BAND RELEASED ITS MOST PROGRESSIVE AND SONICALLY EXPERIMENTAL RECORD TO DATE; MAMMOTH WALTZ. WITH THE STYLINGS OF PRODUCER KOREY RICHEY (ARCADE FIRE, GIVERS) AND THE HELP OF GUEST ARTISTS GORDON GANO, SCARLETT JOHANSSON, AND DR. JOHN, MAMMOTH WALTZ WAS NAMED #2 IN THE "TOP 21 LOUISIANA ALBUMS OF THE 21ST CENTURY" BYTIMES PICAYUNE, AND ACTED AS AN INVITATION FOR ALL MUSIC LOVERS TO TUNE IN TO THE HYPNOTIC CAJUN RHYTHMS LOST BAYOU RAMBLERS HAVE BEEN KNOWN FOR SINCE THEIR INCEPTION IN 1999.
LOST BAYOU RAMBLERS' CONTRIBUTION TO THE SCORE OF BEASTS OF THE SOUTHERN WILD IN 2012 BROUGHT THEM FURTHER INTERNATIONAL RECOGNITION, AND CONTINUING PERFORMANCES WITH WORDLESS MUSIC ORCHESTRA AND SCORE COMPOSERS BENH ZEILTIN AND DAN ROMER.
2014 BROUGHT LBR THE SUPPORT SLOT ON ARCADE FIRE'S REFLEKTOR TOUR, PLUS A LIVE FEATURE ON WORLD CAFÉ, AND #1 ON "DAVID DYE'S FIVE FAVORITE LIVE MUSIC MOMENTS IN AND OUT OF THE WORLD CAFÉ STUDIO", AS WELL AS THE RELEASE OF GASA GASA LIVE, RECORDED AT NEW ORLEANS' UPTOWN EXPERIMENTAL MUSIC VENUE, ONE OF 4 SHOWS THAT DAY IN THE CRESCENT CITY.

AFTER 15 YEARS OF TOURING, RECORDING, AND COLLABORATING AND AN AMAZING LINE-UP OF MUSICIANS INCLUDING KOREY RICHEY (ELECTRIC BASS), JOHNNY CAMPOS (ELECTRIC GUITAR) AND ERIC HEIGLE (DRUMS), THE BAND HAS CONTINUALLY INTEGRATED NEW SONIC ELEMENTS TO ITS LIVE PERFORMANCES, ALWAYS EXPERIMENTING AND GROWING THE SHOW TO WHAT IT'S BECOME TODAY, AN ECLECTIC MIX OF MODERN SOUNDS AND RHYTHMS WITH ANCIENT CAJUN MELODIES AND LYRICS.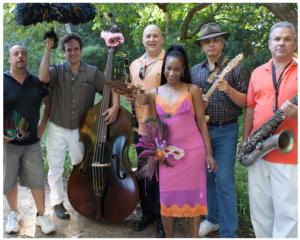 The HooDoo Loungers are a nine piece East Coast based band performing music inspired by the rhythms, sounds, history and spirit of New Orleans. The band's sound encompasses traditional New Orleans Jazz, Brass Band, classic R&B and funk - a blend of original music and re-arranged New Orleans classics. The HooDoo's perform a high energy and highly entertaining show that will please young and old alike.
Since it's formation in 2008, the HooDoo's have performed at numerous East Coast music festivals and concerts as well as performing at top music venues such as the Paramount Theater (Huntington), The Stephen Talkhouse (The Hamptons) and B.B. Kings Blues Club (NYC).
It is said that there is no better band on the East Coast to play a Mardi Gras Party than the HooDoo's . . . while this is true, the HooDoo's are much more than a party band.