Description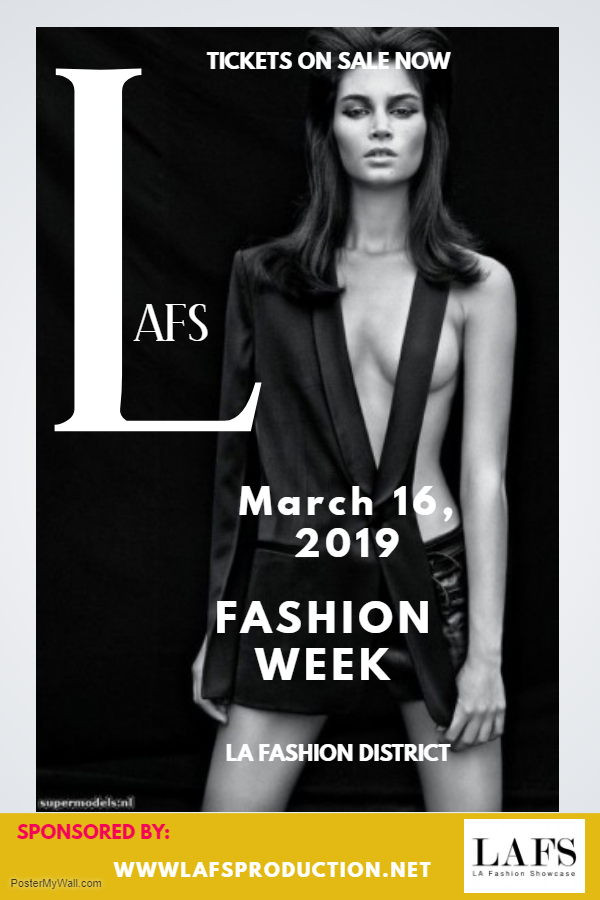 LAFS Fashion Showcase Los Angeles Fashion Week is a global platform recognized fashion production events providing opportunities for top designers. Each year LA Fashion Showcase presents the season's must-see shows, producing unforgettable performances and exclusive installations. We cater to an array of experience designers buyers and retail clients showcasing our expansive LAFS Marketplace immerses our guests in fashion as well as art collaborations. Each Guest and buyer will directly engage with designer brands throughout LOS ANGELES FASHION WEEK.
LA Fashion Showcase Los Angeles Fashion Week diverse global market and culture are featured twice a year in New York, Los Angeles, Miami and Dubai, integrating international designers, media, celebrities and commerce season after season.
**ONE FREE TICKET PER GUEST THAT PURCHASE A STANDING ROOM ONLY TICKET**
AVAILABLE NOW - FREE SHOW TICKETS - LIMITED TIME ONLY
PLEASE NOTE: FREE TICKETS ARE FOR STANDING ROOM ONLY!
TICKETS ARE LIMITED AND CAN BE AQUIRED ON A FIRST COME FIRST SERVE BASIS WHILE QUANTITIES ARE AVAILABLE.
ALSO PLEASE NOTE: DRESS CODE FOR ALL GUEST - FASHION WEEK FASHIONABLE & STYLISH *WE RESERVE THE RIGHT TO BE SELECTIVE*
SHOW DATE: TBD MARCH 2019
IN LOS ANGELES, CA

GET ONE FREE SHOW TICKET AND SEE 5-9 FASHION DESIGNER BRANDS COLLECTIONS

PLEASE NOTE: SOME SHOWS ARE ADULTS ONLY...
PLEASE COME FASHIONABLY DRESS FOR LAFSTV
FEATURING INTERNATIONAL AND DOMESTIC USA FASHION DESIGN BRANDS
VIEW FEATURED FASHION DESIGN BRANDS AND VIEW SHOW'S SCHEDULE HERE:
Show's schedule: www.lafsproduction.net
This Los Angeles Fashion Week season we will feature Designers,"FROM AROUND THE WORLD"
SHOW SCHEDULE FOR LAFW - SATURDAY - MARCH 16, 2019
==============================
THIS SCHEDULE IS SUBJECT TO CHANGE WITHOUT NOTICE...
Designer Showcase #1
(Guest Check in 11:30AM)
SHOW TIME: 11:45AM
Designer Showcase #2
(Guest Check in 1:30PM)
SHOW TIME: 1:45PM
Designer Showcase #3
(Guest Check in 3:45PM)
SHOW TIME: 4PM
Designer Showcase #4
(Guest Check in 6:00PM)
SHOW TIME: 6:15PM
Designer Showcase #5
(Guest Check in 8:00PM)
SHOW TIME: 8:30PML
LOS ANGELES FASHION SHOWCASE LOS ANGELES Fashion Week FW-19
VENUE TBD
Our Featured Designers from both international and domestic USA locations.
International Designers: Australia, Indonesia, China, France, Ethiopia, United Kingdom, Morocco, Canada and USA.

Domestic USA Designers: Washington DC, Utah, Arizona, Illinois, Pennsylvania, North Carolina, Michigan, Massachusetts, Washington, Louisiana, California, New Jersey, Florida, Ohio, Washington, Illinois, Maryland, and New York