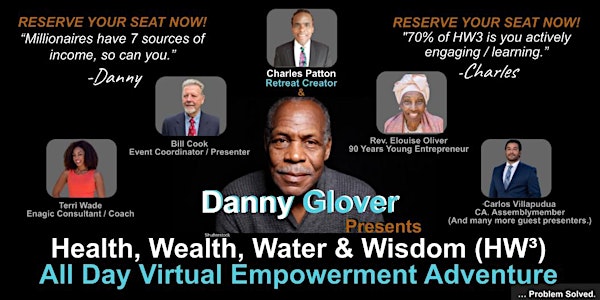 FREE- Live Virtual- Health, Wealth, Water & Wisdom Empowerment Adventure
Location
1975 Post St
1975 Post Street
San Francisco, CA 94115
FREE: Join Danny Glover, Charles Patton & Friends LIVE VIRTUALLY as they empower you to the life of your dreams! Share with friends!
About this event
Thanks to our newest sponsors the $29.99 virtual retreat is now FREE. (This event only.) Experience our fun empowerment adventure live virtually... In this time of the pandemic, global fears , stress, trauma, and mental wellbeing issues about the past, today, the future, and the "new normal", the world can feel confusing. Come to get some solutions from our team of experts. Guests will enjoy learning mindset tools, systems & business opportunities to create the balanced life you desire & deserve! Health, Wealth, Water & Wisdom is considered one of the most effective spiritual empowerment models in the country.
Create your own personalized success plan.
Discover solutions from our team of experts.
Create the balanced life you desire & deserve!
Get mindset tools, systems and accountability.
Join our 90 day business success support team.
Find your new community of like minded people.
Every person will be a participant and a facilitator.
Improve your health, wealth, relationships & spirituality.
Come to get some solutions in this time of pandemic and stress.
Fun, hands-on, all-day empowerment retreat with music & dancing.
70% of the retreat will be you doing processes to overcome challenges.
Learn business opportunities from network marketing to real estate, etc.
Uncover & create solutions to the problems that have been holding you back.
Each event will have different expert guest presenters.
Live retreats are currently being held every 1st & 3rd Saturday in San Francisco, CA. 9:00 am to 6:00 pm with new locations starting in January of 2022 in Atlanta GA, Chicago, IL, New York, NY, and Anchorage, AK., etc.
If you can please attend our live IN PERSON event by clicking HERE for the greatest impact and community building option!