Free Lecture! Evolution Toward a Planetary Consciousness
Description
On the basis of his work summarized in the volume "The Evolving Self," Professor Mihály Csikszentmihalyi will review the history of human evolution from circa two million years ago to the present, focusing on the development of consciousness, or the ability of the human mind to simulate possible courses of action, to create new ideas and objects, and to transcend the material structures in which human life is embedded. The future is ours to make, and we have much to learn, because our mistakes will be increasingly costly with passing year.

After the lecture, Dr. Csíkszentmihályi will sign copies of his three books – "Flow," "Creativity" and "The Evolving Self" – at the new Moody Center for the Arts.

About the Speaker:
Mihály Csíkszentmihályi is a Distinguished Professor of Psychology and Management at Claremont University. He is also the author of "Flow: The Psychology of Optimal Experience" and "Creativity: Flow and the Psychology of Discovery and Invention."
About the Event:
All lectures in the "Creativity Up Close" series are free and open to the public, but seating is limited. To ensure that you have a reserved seat, please click the green "Register" button to sign up. Be sure to print your ticket and bring it to the event, or have access to the e-ticket on your mobile device.
The Stude Concert Hall is located at Entrance 8 off of University Blvd. on the Rice University Campus. Lecture attendees can park in the Visitor's Lot (Parking Lot 1) for a fee of $12, or the Greenbriar Parking Lot for a fee of $2. The parking lots automatically accept credit cards. Shuttles are available from the Greenbriar Parking Lot and run until 10:30 p.m. For shuttle routes and information, click here and select RVA/Greenbriar route. This map of Rice campus parking shows the lot locations and their proximity to the Stude Concert Hall.

The simplified parking map below shows the lots in more detail: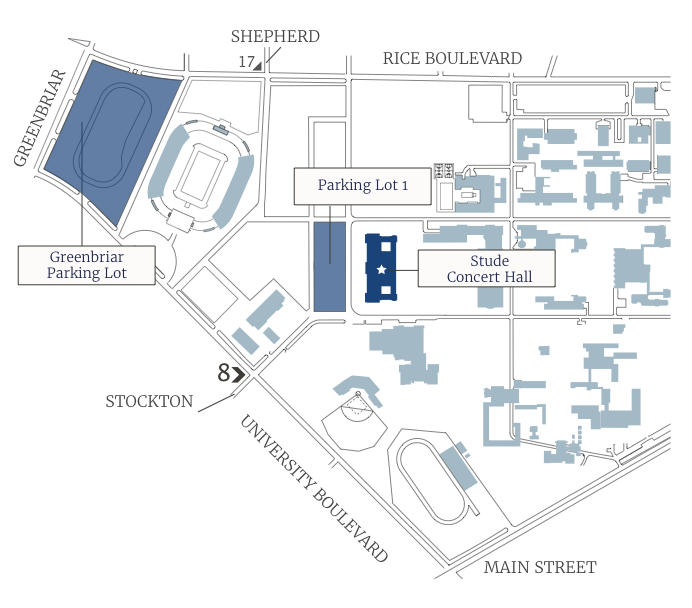 Thank you again for making this lecture series such a huge success. We look forward to seeing you on March 21.