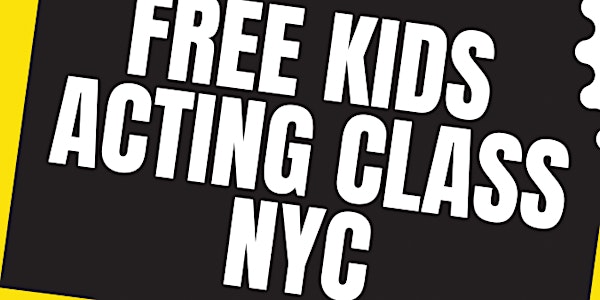 FREE KIDS ACTING CLASS with EMMY AWARD WINNER- Michelle Watson
Kids Acting and Voice Over
About this event
This hands-on training will teach students the fundamentals of acting, voice-over recording, and the creative and technical demands of telling a story thru the use of moving images.  
Young People Learn:
 1. Film Crew roles:
 How to properly use film equipment to make a self tape audition.
The importance of a casting director, director, and other crew members in film.
 2. Audition etiquette:
 How do I prepare myself for a video shoot and audition?
 3. The film process:
 Pre- production, Production, Post- Production
 4. How to find the right agent:
  Understand SAG
 5. Acting technique:
   Monologue
 6. Voice over technique:
  Voice projection and range
7. Modeling
The Business of Film and Entertainment
1. The resources needed to start your child's acting career.
   A) Head shots, Comp cards, resumes
   B) Acting Classes
   C) How to find the right agent
2. How to prepare and assist your child with auditions:
   A) Confidence building and reassurance
   B) Why every audition counts
   C) Audition etiquette for parents
3. How to find an agent:
   A) Being a "moma-ger"
   B) Beware of expensive fee
Thank you for showing interest in our Kids Film Camp. Emmy Award winner Michelle Watson whom is also the Founder of The Kids Film Camp has developed an on- going class to provide children and parents with the resources needed to begin their children's acting career. Like many parents, Michelle had become overwhelmed with being misinformed about how to get her daughter castings for television and film. Knowing and understanding that those modeling recruitment companies in the malls would NOT be a valuable source for her child on any other, Michelle took on the initiative to be a better resource for parents and opened the Kids Film Camp in Atlanta, GA and New York City.The Kids Film Camp provides young people with an outlet to express themselves through film and media. The program was a great success in Atlanta and received recognition on CW69, CBS, 11ALIVE, 94.5FM and more.  In an effort to continue providing both children and parents with the most valuable information needed for transitioning into the entertainment industry, Michelle has created a  workshop parallel to her Kids Film Camp program. During this workshop children will be trained in cinematography, editing, acting, voice over and more.  
WWW.KIDSLOVEWATSON.COM
@EVERYBODYLOVESWATSON
@THEWATSONACADEMY
Organizer of FREE KIDS ACTING CLASS with EMMY AWARD WINNER- Michelle Watson