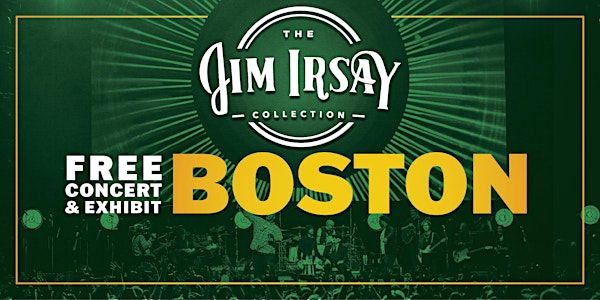 FREE Jim Irsay Collection Exhibit & Concert - Boston - July 15
Indianapolis Colts owner Jim Irsay displays his world-renowned collection - featuring a concert by the Jim Irsay Band w/Special Guests.
By The Jim Irsay Collection
Date and time
Saturday, July 15 · 6 - 11pm EDT
Location
TD Garden 100 Legends Way Boston, MA 02114
Refund Policy
Contact the organizer to request a refund.
Eventbrite's fee is nonrefundable.
About this event
Jim Irsay's world-renowned collection—a traveling museum of rock music, American history, and pop culture—comes to Boston for a free, one-night only event. Featuring a live performance by The Jim Irsay Band w/Special Guests.
Jim Irsay, owner & CEO of the NFL's Indianapolis Colts, showcases items from The Jim Irsay Collection – a traveling museum of rock music, American history and pop culture – in Boston for one night only, July 15, 2023 from 6pm-11pm at TD Garden.
The Collection highlights instruments and items owned by some of the greatest artists in music history, including Bob Dylan, The Beatles, Prince, Eric Clapton, Elton John, Jerry Garcia, Jimi Hendrix, Janis Joplin, Jim Morrison and Kurt Cobain, as well as autographed photos, handwritten lyrics, and other historical music memorabilia. It also includes U.S. Presidential artifacts, important original documents from American history and unique items, such as a 1953 Jackie Robinson bat, Muhammad Ali's 1974 "Rumble in the Jungle" championship belt and the original scroll of Jack Kerouac's seminal novel, On the Road.
The evening culminates with a concert by The Jim Irsay Band, featuring Irsay on vocals, Kenny Aronoff on drums (Sir Paul McCartney, John Mellencamp, The Rolling Stones, Bob Dylan), Billy Branch on harmonica (Willie Dixon, Johnny Winter, Keb' Mo, Taj Mahal), Tom Bukovac on guitar (played on more than 700 albums with major artists), Mike Mills on bass & vocals (founding member of R.E.M.), Danny Nucci on guitar & saxophone (actor, Titanic, The Rock), Michael Ramos on keyboards (Mellencamp, Patti Griffin, Paul Simon), Carmella Ramsey on violin, mandolin & vocals (Reba McEntire, Olivia Newton-John), Kenny Wayne Shepherd on guitar & vocals (five-time Grammy® nominee), and Mike Wanchic, guitar (Mellencamp).
The band will be joined in Boston by country music star Vince Gill with other special guests to be announced.
Past guest artists have included John Mellencamp, Stephen Stills (Crosby, Stills & Nash), blues pioneer Buddy Guy, Ann Wilson (Heart), John Fogerty (Creedence Clearwater Revival), Kevin Cronin (REO Speedwagon), Natalie Merchant (formerly of 10,000 Maniacs), Billy Gibbons (ZZ Top), nine-time Grammy® nominee John Hiatt, and four-time Grammy® nominee Robert Randolph.
*Note: This event is FREE and open to the public but tickets are required and will be allocated on a first-come, first-served basis while supplies last.
The following items from The Jim Irsay Collection will be on display in Boston, July 15, 2023 at TD Garden:
GUITARS
1969 Fender Stratocaster (David Gilmour - "The Black Strat")
1969 C.F. Martin & Co. D-35 (David Gilmour - "Wish You Were Here")
1979 Doug Irwin "Tiger" (Jerry Garcia)
1939 C.F. Martin & Co. Style 000-42 (Eric Clapton - "MTV Unplugged")
1969 Fender Mustang (Kurt Cobain - "Smells Like Teen Spirit")
1964 Gibson SG Standard (George Harrison/John Lennon)
1963 Gretsch Chet Atkins 6120 (John Lennon)
1964 Rickenbacker Rose Morris 1996 (John Lennon / Ringo Starr)
1964 Fender Stratocaster (Bob Dylan - "Dylan Goes Electric" at Newport Folk Festival)
1992 Gibson Hummingbird (Bob Dylan)
1954 Gibson Les Paul Custom (Les Paul - "Black Beauty")
1964 Fender Jazzmaster (Jimi Hendrix)
c. 1995 Andy Beech Custom Cloud (Prince - "Yellow Cloud")
1995 Epiphone Casino Reissue (Steve Earle)
1977 Gibson Les Paul Pro-Deluxe (Neal Schon / Journey - "Don't Stop Believin'")
1956 C.F. Martin D-21 (Johnny Cash)
1963 Maton MS-500 Mastersound (George Harrison)
1964 Gibson SG Special (Pete Townshend)
2003 Fender Danny Gatton Telecaster (Lou Reed - "Goldie")
1976 Gibson Explorer (The Edge / U2)
1979 Yamaha BB-1200 Bass (Paul McCartney)
2002 DeArmond by Guild M-75T (Jimmy Page)
1953 Gibson J-45 (Janis Joplin)
1932 Bacon & Day Senorita S-5 (Walter Becker / Steely Dan)
1966 Vox Kensington (John Lennon)
1968 Harptone L-6s 12-String (George Harrison)
2006 Gretsch 6138 guitar Bo Diddley Signature Model (Bo Diddley)
1976 Alembic Series 1 Custom Bass (John McVie / Fleetwood Mac)
1961 Gibson Les Paul Junior (Billie Joe Armstrong / Green Day)
1969 C.F. Martin & Co. 00-21 (Don McLean - "Vincent (Starry, Starry Night"))
MUSIC
Ringo Starr's 1963 Ludwig Oyster Black Pearl Drum Kit and Snare drum
The Beatles "Ed Sullivan Show" Bass Drumhead
John Lennon's "Sgt. Peppers Piano," c. 1869 John Broadwood & Sons Upright
Sir Elton John's c. 1970s Steinway & Sons Model D Grand Piano
Jim Morrison's Paris Notebook
Jim Morrison's Performance Microphone
Bob Dylan's Working Lyrics for "The Times They Are A-Changin'"
Paul McCartney's Studio Lyrics for "Hey Jude"
Natalie Merchant's Handwritten "Hey Jack Kerouac" lyrics
"The Day the Music Died" Concert Poster
John Lennon's Sunglasses
Paul McCartney's Affidavit Filed to Break Up The Beatles
1965 Newport Folk Festival Poster
1965 Newport Folk Festival Program
John Coltrane's 1966 Yamaha Prototype Alto Saxophone
Miles Davis's Martin Committee Trumpet
Jimi Hendrix's Moroccan chest
James Brown's "Godfather of Soul" Stage-Worn Cape
James Brown's Stage-Worn Leather Boots
POP CULTURE
Sylvester Stallone's "Rocky Balboa" Boxing Shoes
Steve Jobs' Signed and Inscribed Apple II Manual
Steve Jobs' Letter Handwritten Letter to Childhood Friend Tim Brown, 1974
Muhammad Ali's Fight-Worn Shoes from the "Thrilla in Manila"
Muhammad Ali's Walk-Out Robe from First Fight After His Name Change
Muhammad Ali's WBC Heavyweight Championship Belt
Screen-Used "Wilson" Volleyball from Castaway (2000)
Screen-Used "Golden Ticket" from Willy Wonka & the Chocolate Factory (1971)
Secretariat's Saddle, Used during 1973 Triple Crown
AMERICAN HISTORY/FINE BOOKS AND MANUSCRIPTS
Original Typescript Scroll of "On the Road" by Jack Kerouac
Original Draft Manuscript of the Alcoholics Anonymous "Big Book"
William Stone's 1823 Engraving of the Declaration of Independence
John Hancock Signed Lottery Ticket for Faneuil Hall Fundraiser, 1765
John Hancock Thank You Note to Anthony Wayne, 1774
The First National Declaration of Thanksgiving, 1777
George Washington Autograph Letter Signed to Brig. Gen. Alexander McDougall, 1777
George Washington Autograph Letter Signed to Major Benjamin Tallmadge, 1780
George Washington Autograph Letter Signed to Thomas Jefferson Regarding the Constitution, 1787
Thomas Jefferson Autograph Letter Signed to Amos Cook, 1816
Thomas Jefferson Autograph Letter Signed to Thomas Paine, 1808
Abraham Lincoln's Pocket Knife and Presentation Box, Presented to Him at the 1864 Philadelphia Great Central Fair
Abraham Lincoln Autograph Letter Signed Regarding the Pocket Knife, 1864
Abraham Lincoln's Fence Rail Presentation Cane, c. 1860
Abraham Lincoln Autograph Letter Signed for a Stay of Execution, 1863
Abraham Lincoln Autograph Letter Signed for Job Recommendations to the U.S. Postmaster General, 1864
Abraham Lincoln Autograph Letter Signed Requesting A Prisoner Exchange, 1862
National Union Ticket Campaign Poster for President Abraham Lincoln and Vice President Andrew Johnson, 1864
"The Murderer" Wanted Poster for John Wilkes Booth, 1865
"THE PRESIDENT IS DEAD!" Broadside Poster, 1865
U.S. Army Civil War-era Miliary Snare Drum
Susan B Anthony Autograph Signed Letter, 1892
Original Photograph of Susan B. Anthony, 1905
"I Want You" Poster by James Montgomery Flagg, 1917
$10,000 Federal Reserve Note, 1934 (New York)
$10,000 Federal Reserve Note, 1934 (Chicago)
$5,000 Federal Reserve Note, 1934 (Dallas)
Jackie Robinson's 1953 Game-Used Baseball Bat
Jackie Robinson's 1953 Topps Baseball Card
President John F. Kennedy's White House Rocking Chair
Stetson Hat Intended for President John F. Kennedy from Texas Gov. John Connally, 1963
Welcome Dinner Press Ticket for President Kennedy Event, 1963
President John F. Kennedy's Cigar box and 1901 Half Dollar Coin
NASA Official Photos of the First U.S. Spacewalk, taken by James McDivitt (Gemini IV)
The Adventures of Tom Sawyer by Mark Twain, First Edition, First Printing, 1876
The Adventures of Huckleberry Finn by Mark Twain, First Edition First Printing, 1885
The Fun of It by Amelia Earhart, 1932
Hunter S. Thompson's Personal Copy of The Dharma Bums by Jack Kerouac
HOWL and Other Poems by Allen Ginsberg, First Edition Review Copy and Accompanying Letter
Ernest Hemingway Autograph Letter Signed, 1932
The Atlantic Charter, signed by President Franklin Delano Roosevelt and Winston Churchill
Winston Churchill Autograph Letter Signed Regarding Hitlerism, 1942
President Harry S. Truman's Top Hat, Worn at the 1949 Presidential Inauguration
Volodymyr Zelenskyy Signed Baseball
WEBSITE AND SOCIAL MEDIA
The Jim Irsay Collection - Instagram
The Jim Irsay Collection - Facebook
The Jim Irsay Collection - Twitter
The Jim Irsay Collection - YouTube
About the organizer
Jim Irsay Collection events are FREE and open to the public. Each event features a display of the Collection - over $100million worth of Rock N'Roll, American History, and Pop Culture artifacts - including the "...greatest guitar collection on earth" (Guitar Magazine) and a concert with world-renowned musicians including Kenny Wayne Shepherd, Mike Mills (R.E.M), Kenny Aronoff, Tom Bukovac, and hall of fame special guests. As the New York Times has opine: "This is a phenomena is something that has never happened before and will likely never happen again."