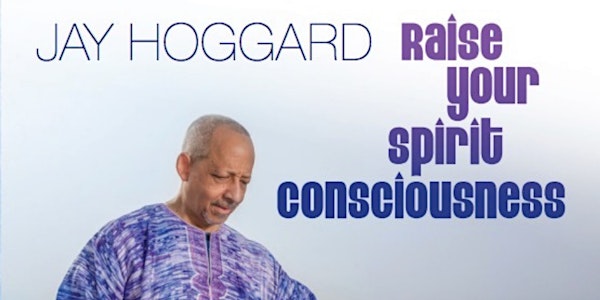 FREE: JAY HOGGARD SEXTET @ A CD PRE-RELEASE JAZZMOBILE|SESSIONS CONCERT
This concert is Sponsored by: Interchurch Church Center, West Harlem Development Corp., Harlem Community Development Corp and Con Edison!
When and where
Location
THE CHAPEL AT THE INTERCHURCH CENTER ENTER AT 61 CLAREMONT AVE BETWEEN 119TH & 120TH ST New York, NY 10027
About this event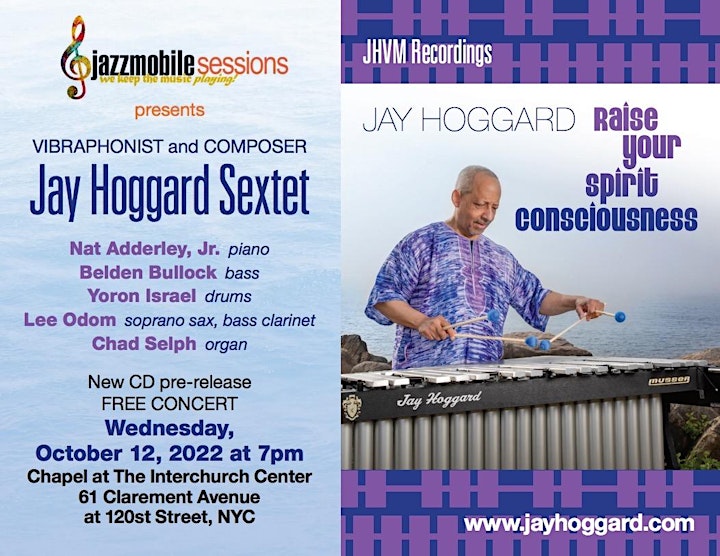 JAY HOGGARD - VIBRAPHONIST / COMPOSER
Vibraphonist, Composer Jay Hoggard's music has touched the hearts and souls of listeners around Planet Earth for 40 years. Jay Hoggard has long ranked with the greatest vibraphone innovators. Jay's music is positive, spiritual, uplifting, and happy. He masterfully draws on traditional and contemporary musical vocabulary to develop new directions for the vibraphone. Jay seamlessly blends jazz and gospel roots with African marimba rhythms. His performance repertoire represents the three B's of the jazz tradition (Blues, Bop, Ballads) with original innovations.
Jay Hoggard has recorded 22 CD's as a leader and over 50 as a collaborator. His newest CD,RAISE YOUR SPIRIT CONCIOUSNESS , is the latest on th JHVM Label. Other releases include: is HARLEM HIEROGLYPHS. This two disc recording features Gary Bartz saxophones, James Weidman piano,organ, Nat Adderley,Jr piano,organ, Belden Bullock bass, and Yoron Israel drums. Noted jazz writer Owen McNally recently declared in his Jazz Corridor column for WNPR.org.; THE RIGHT PLACE, SONGS OF SPIRITUAL LOVE, SWING 'EM GATES, SOULAR POWER, CHRISTMAS VIBES ALL THRU THE YEAR, and SOLO FROM TWO SIDES, give listeners an opportunity to experience the many sides of this significant and vital musician.
SOLO FROM TWO SIDES is a beautiful program of 13 Jay Hoggard compositions performed by the composer on both vibraphone and marimba, by way of digital overdubbing. SOULAR POWER, released Fall 08, is an exquisite set of eleven Jay Hoggard compositions and one jazz standard. As Hoggard says, "this CD has the feel of a live performance with the benefit of studio quality sound. New tunes are combined with others that have evolved in performance over the years. I am about music that is both aesthetically pleasing for your mind and spirit, and physically healing for your body and soul. The power of soul is a mystical paradigm of consciousness transformation ."
Jay Hoggard has been honored and commissioned as a composer in various contexts. In 2016 he collaborated with choreographer Nicole Stanton and writer Lois Brown on STORIED PLACES, premiered at Wesleyan University. In 2009, he was commissioned by dance troupe Sankofa Kuumba and the Hartford Symphony Orchestra to write THE OTHER SIDE OF THE OCEAN and LET ME MAKE IT CLEAR. Previously, Jay collaborated with choreographer Cleo Parker Robinson by composing THE WISDOM OF THE BAOBAB TREE commissioned by Lincoln Center Out of Doors. He was commissioned by the Hartford Festival of Jazz to compose LA TIERRA HERMOSA, dedicated to Tito Puente. He was commissioned by Wesleyan University to compose JOYFUL SWAMP and CROSSING POINT for Max Roach and percussion ensemble, and VIBARIMBALA for symphonic and jazz orchestras.
As a performer, Jay Hoggard has toured the globe to rave reviews. He has performed in many of the finest venues of music presentation throughout the United States , Africa Europe, South America, the Caribbean, and Asia. Jay has performed in major venues (Kennedy Center, Lincoln Center, Schomberg Center) jazz festivals (St. Lucia. JVC, Montreux, Mt.Fuji, Pori, Hartford), colleges, universities, churches, galleries, libraries, and clubs around the globe. Jay has been featured on radio (NPR, Pacifica) and television (ABC Times Square, CBS Sunday Morning, BETJazz) nationally and internationally. He led a quintet on an extensive tour sponsored by the United States government to North Africa, the Middle East and India. Jay performed in special concert collaborations with vibraphone masters Lionel Hampton, Milt Jackson, Tito Puente and Bobby Hutcherson. He has recorded and toured with creative artists such as Kenny Burrell, Dr. Billy Taylor, Max Roach, James Newton, Hilton Ruiz, Oliver Lake, Bennie Maupin, Sam Rivers, Anthony Braxton, Jorge Dalto, Terumasa Hino, Dwight Andrews, Geri Allen, Anthony Davis, Henry Threadgill, Vishnu Wood, Chico Freeman, Muhal Richard Abrams , Sherry Winston, Ahmed Abdullah, and was a guest artist with the Dizzy Gillespie Big Band. Jay has accompanied singers, instrumentalists, and poets and has performed with gospel, theater, dance, percussion, and orchestral ensembles.
Jay Hoggard is a tenured Professor of Music at his alma mater, Wesleyan University. For over 25 years, he has been the director of the Wesleyan Jazz Orchestra and has taught and mentored thousands of students.