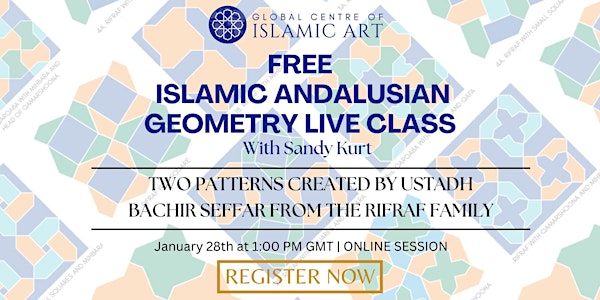 FREE Islamic Andalusian Geometry Live Class with Sandy Kurt: Rifraf Family
Join Sandy Kurt as she walks you through two geometric patterns based on the Rifraf family pattern from the Andalusian/Morrocan tradition.
About this event
This is a FREE online live class where you will be guided through a step-by-step tutorial of two unique geometric patterns. Both patterns are unique creations of Ustadh Bachir Seffar's based on the Rifraf shape.
All people who have booked a ticket will receive a recorded copy of the event. So even if you cannot attend the event itself, book a ticket to secure the recording.
To take part in this event, you will need the following equipment:
1) 6-inch compass
2) Ruler
3) Pencil
4) Paper: A4 or A3 size
5) Eraser
6) Fineliner or colours
Optional Tools: Tracing paper and masking tape