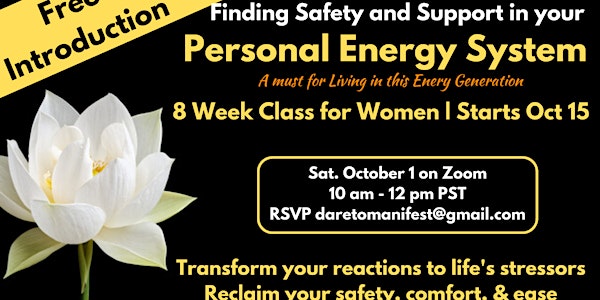 ★ Free Intro ★ Finding Safety in Your Personal Energy System ★
Free Introductory Workshop about a 10 week Energetic Intensive on how to find safety/support by engaging with one's Personal Energy System.
About this event
Saturday October 1 | 10 am - 12 pm PST on Zoom
★ Free Introduction ★
Finding Safety & Support in Your
Personal Energy System
8 WEEK INTENSIVE ON PERSONAL ENERGY SYSTEM FOR WOMEN
SATURDAYS, 10 AM - 12 PM PST - STARTING OCTOBER 15
Register for Free to receive zoom link to join
Ever wondered why we know so little about our personal energy system which acts as the catalyst for all other systems in our body?
What if you could change how your mind-body reacts to life's challenges and stressors engaging an energetic toolkit you already have? Imagine being able to use your very own energetic strategies to feel more safe, calm, and comfortable. And live with serendipity, grace, and ease!
At this day and age of the energy generation, it feels paramount to understand and be able to work with our very own personal energy system. Whether you are passionate about feeling safe and comfortable in your body, healing your past trauma, improving your relationships, developing professionally, and wish to step out of reactivity and step into living your life from a place of grace and choice, this class is for you.
Bring your curiosity this Saturday October 1 to explore the reasons we must be Personal Energy Savvy at this day and age. And learn about the next 8 Week All Women Personal Energy Intensive that starts on October 15. Sample Roke's style of teaching and pick up some cool energetic techniques, as Roke expands on the benefits of understanding and working with your Personal Energy System.
ABOUT THE PROGRAM
This 8 Week Personal Energy Intensive for Women is about how to find safety and support in your Personal Energy System, which is fundamental to anything else you might be aspiring for. Understand the nuts and bolts of your Personal Energy System. Learn how to use this Energetic toolkit for transforming your reactions to life's challenges. And start an Energetic Practice to reclaim your right to safety, comfort, and ease.
This introductory Workshop and the upcoming program will be taught by Roke (aka Krishnakali) Noir, 5 Body Coach, Human Energy Teacher, and East-West Spirit Guide.
Questions? Contact Roke at 510.681.9740 or daretomanifest@gmail.com
Warmly,
Roke / "I am what I am looking for"