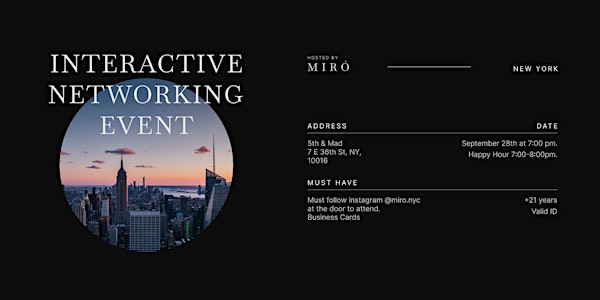 Free Interactive Networking in NYC
Meaningful connections in 5 min? No problem! Join our Interactive Networking on September 28th @7pm at 5th & Mad!
When and where
Location
5th&Mad 7 East 36th Street New York, NY 10016
About this event
In today's world, building professional connections is crucial for those looking to expand their businesses. Therefore, it comes as no surprise that there are a lot of networking events going on. Such gatherings greatly assist people who otherwise feel too bashful to make useful relationships. Everyone attending a speed networking event is there for a specific reason. As a result, it is not unusual to begin a business conversation without exchanging niceties.
You can connect with many people in many areas at the interactive networking event. During these gatherings, professionals can easily exchange contact information and occasionally arrange follow-up meetings. This opens up possibilities for business expansion and beneficial alliances. There is no need for small talk because everyone attending has come for the sole goal of connecting. After the meeting, it is customary for these events to get to business, which professionals greatly appreciate.
5th & Mad is a great, spacious venue with provided drinks, where it would be easy to make meaningful connections as fast as you finish your Happy Hour Drink.
THE AGENDA:
8:30–9:30pm: Socializing time with new guests and enjoying the drinks at the bar.
9:30-10:30pm: Interactive Networking starts! BRING YOUR BUSINESS CARDS The host will be asking questions about cultures, careers, technology, and many more. During that time you'll be connecting with many other people from different industries, cultures, and countries.
10:30-...: Party time!
HOW INTERACTIVE NETWORKING WORKS:
The host will be asking many intresting questions about our world, culture, business, and maybe we will be playing kahoot game ( If there's energy in the room).
While the guests are answering, searching for questions, it will be more comfortable and easier to connect with people that are from different cultures, industries, and even countries.
The winner of the game gets a small prize!
LET'S MAKE MEANINGFUL CONNECTIONS!
Check out our website:
https://mirosocialclub.com