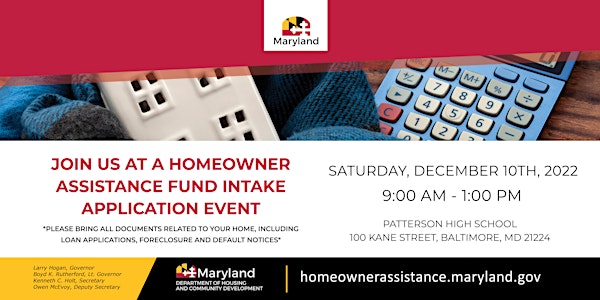 Free Intake Clinic Application Event - Maryland Homeowner Assistance Fund
Free Intake Clinic to help Maryland homeowners with Homeowner Assistance Fund applications
By Maryland Department of Housing and Community Development
When and where
Date and time
Saturday, December 10, 2022 · 9am - 1pm EST
Location
Patterson High School 100 Kane Street Baltimore, MD 21224
About this event
Join us at a Homeowner Assistance Fund Application Intake Event!
You may be eligible for FREE help through the State of Maryland if COVID-19 has affected your ability to pay your mortgage or other housing related costs.
Date: Saturday, December 10, 2022
Time: 9:00 AM - 1:00 PM
Location: Patterson High School, 100 Kane Street, Baltimore, MD, 21224
*Please bring all documents related to your home, including loan applications, foreclosure and default notices.*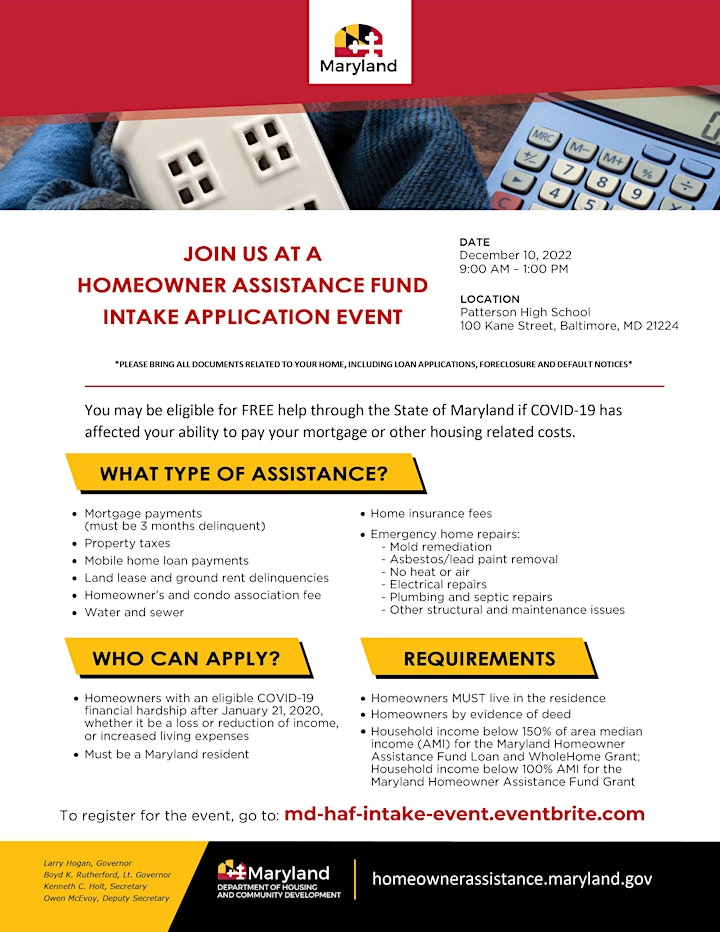 What type of assistance?
Mortgage payments (must be 3 months delinquent)
Property taxes
Mobile home loan payments
Land lease and ground rent delinquencies
Homeowner's and condo association fee
Water and sewer
Home insurance fees
Emergency home repairs (i.e. mold remediation, asbestos/lead pain removal, no heat or air, electrical repairs, plumbing and septic repairs, other structural and maintenance issues)
Who can apply?
Homeowners with an eligible COVID-19 financial hardship after January 21, 2020, whether it be a loss or reduction of income, or increased living expenses.
Must be a Maryland resident
Requirements:
Homeowners MUST live in the residence
Homeowners by evidence of deed
Household income below 150% of area median income (AMI) for the Maryland Homeowner Assistance Fund Loan and WholeHome Grant; Household income below 100% AMI for the Maryland Homeowner Assistance Fund Grant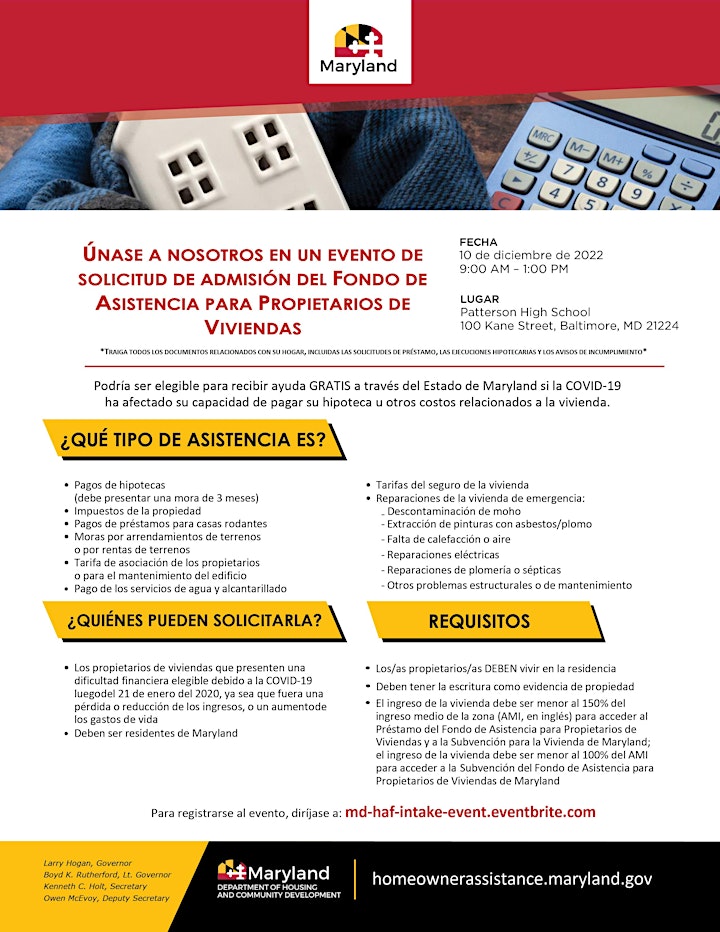 ¿QUÉ TIPO DE ASISTENCIA ES?
Pagos de hipotecas (debe presentar una mora de 3 meses)
Impuestos de la propiedad
Pagos de préstamos para casas rodantes
Moras por arrendamientos de terrenos o por rentas de terrenos
Tarifa de asociación de los propietarios o para el mantenimiento del edificio
Pago de los servicios de agua y alcantarillado
Tarifas del seguro de la vivienda
Reparaciones de la vivienda de emergencia:- Descontaminación de moho- Extracción de pinturas con asbestos/plomo- Falta de calefacción o aire- Reparaciones eléctricas- Reparaciones de plomería o sépticas- Otros problemas estructurales o de mantenimiento
¿QUIÉNES PUEDEN SOLICITARLA?
Los propietarios de viviendas que presenten una dificultad financiera elegible debido a la COVID-19 luegodel 21 de enero del 2020, ya sea que fuera una pérdida o reducción de los ingresos, o un aumentode los gastos de vida
Deben ser residentes de Maryland
REQUISITOS
Los/as propietarios/as DEBEN vivir en la residencia
Deben tener la escritura como evidencia de propiedad
El ingreso de la vivienda debe ser menor al 150% del ingreso medio de la zona (AMI, en inglés) para acceder al Préstamo del Fondo de Asistencia para Propietarios de Viviendas y a la Subvención para la Vivienda de Maryland; el ingreso de la vivienda debe ser menor al 100% del AMI para acceder a la Subvención del Fondo de Asistencia para Propietarios de Viviendas de Maryland