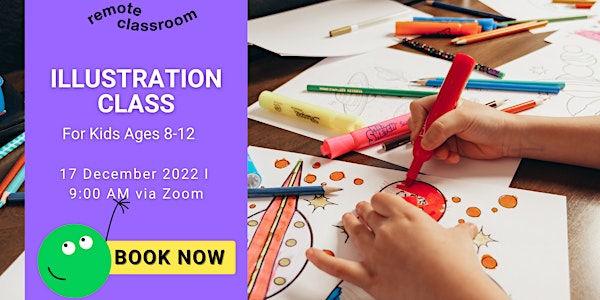 Free Illustration Class Live Session
Free Illustration Class Live Session for kids ages 8-12 years old
About this event
Teacher Donald is a multidisciplinary freelance graphic designer from the Philippines with clients from local and overseas. He designs print media, websites and he also illustrate.
In this lesson, your kids will learn:
Discussions on art history
Hand movement exercises
Fundamentals of drawing and painting
- balance and composition
- light and shade
- color mixing
Actual drawing and painting session
Assignment
Kindly prepare the following materials:
HB pencil or any equivalent shade
Kneaded eraser or any equivalent eraser
Sketchpad 9in x 12 in or bigger
Oil pastel
Join Classes Now!
Signup 👉 https://remoteclassroom.com/learn/
Please follow @remoteclass for more updates
Send us a message.
📧 jenni@remoteclassroom.com
📱 m.me/remoteclass
#remoteclassroom
#remotelearning
#remoteclassroomau
#homeschoolingaustralia
#lifeschooling
#onlineteaching
#remoteteaching
#tutoring
#onlinelearning
#homeschool
#virtualschool
#virtuallearning
#parents
#onlineteacher
#education
#learning
#onlineschooling
#distancelearning
#elearning
#digitalschool
#homeschoollife
#homeschoolingmom
#homeschoolfamily
#homeschoolmom
#homeschoolinglife
#homelearning
#homeschoolingfamily