About this Event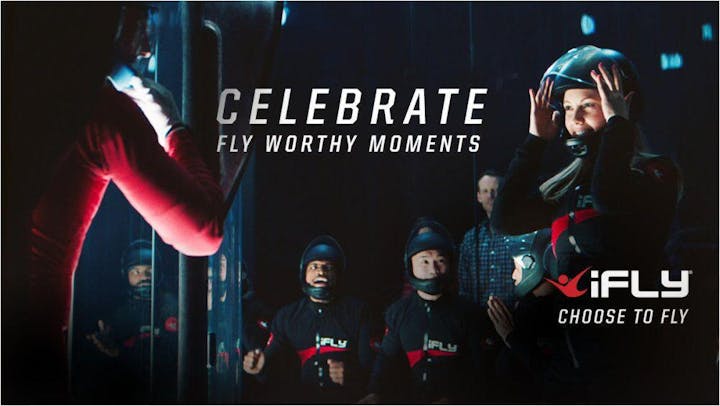 Adult League Open House
Wednesday, September 18, 2019. 4:30 - 8pm
What to expect:
We are opening our doors for you to start on belly basics and to soar to whichever heights that you would like to achieve.
We will provide FREE PIZZA, music, special merchandise pricing, raffle prizes, swag bag with flight purchase, and special pricing available if you would like to fly during this event. You will receive 10% off our regular pricing that is listed below.
Regularly Scheduled Adult League Information:
Wednesdays and Sundays Starting at 6:00 pm
PRICING:
Single Drop in Session:
5 Minutes- $59.95
10 Minutes- $139.90
One Month: 4 Weekly Sessions:
5 Minute - $239.80
10 Minutes- $479.60
To learn more or enroll call the tunnel directly at: 513-901-4359
What Happens in Adult League?
Each weekly class is an Adult friendly experience that includes:
Participant receiving at least 5 minutes of flight time and personal one-on-one coaching with an IBA certified instructor.
Team briefing Warm-up with stretching
One-on-one coaching
Optional focus training on competition disciplines 5 or 10 minutes of flight time depending on what package is purchased
Digital Video & photos of flights for flyer to keep
Debrief with flight video review Logging of flight time & skills in personal logbook
PERKS:
Camaraderie and Socialization
Free Wi-Fi to use during the session
Team room usage for video review when available
Flight resources booklet
Exclusive Adult League member discounts on personal flight gear & iFLY merchandise
FAQs
Q.) Who can come to this event?
A.) **Please note this event and special discount is for Adults interested in our Adult League Program. Children, family members, and other guests are welcome to attend and are welcome to fly with the purchase of a flight package. Please contact the organizer if you would like to purchase a flight.
**If you have children interested in training, we have Flight School with a similar set up.
Q.) Not sure you want to fly during the event?
A.) Guests are sure to be entertained by the demonstrations and experts flying in our wind tunnel! Please notify the organizer you are attending, but not flying.
Q.) Are there age/physical limits to enter the event?
A.) Our Adult League requirements are 18+. If you have reasonable health and fitness you can fly. But do check the criteria below before you book. We'll do everything we can to help you fly because our goal is to deliver the dream of flight to everyone! There are a few exceptions:
Participants must weigh less than 300lbs.Women who are pregnant should not fly.Folks with recent back, neck and heart problems should check with a doctor before flying.iFLY recommends people with prior shoulder dislocations DO NOT FLY!If you have any concerns or questions about whether or not you can fly, please refer to our Flight Waiver which contains further details.www.iFLYworld.com/flight-waiver
Q.) What should I bring to the event?
A.) Please wear comfortable clothes and lace up tennis shoes if you are planning to fly.
Q.) Where can I contact the organizer with any questions?
A.) Please contact 513-901-4359
Q.) Do I have to bring my printed ticket to the event?
A.) Not required, but it will be helpful.