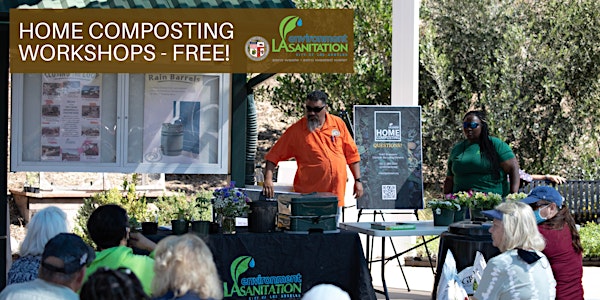 Multiple dates
FREE Home Composting Workshops - Lopez Canyon
Learn to compost with LASAN. Workshops are free and include plant giveaways as well as raffles!
By LA Sanitation & Environment
Date and time
May 27 · 9am - October 28 · 10:30am PDT
Location
Lopez Canyon Environmental Center 11950 Lopez Canyon Road Sylmar, CA 91342
About this event
This workshop will teach you how to turn kitchen scraps and yard trimmings into a nutrient-rich soil amendment. Home composting is taught by a team of ten rotating LA Sanitation & Environment green waste specialists. Each participant will take home a free garden plant at the end of the event. Some workshops even have surprise guests!
Compost bins ($20), Wing Digger aeration tools ($8), and worm bins ($20) are available to City of Los Angeles residents for purchase at these discounted rates, while supplies last. All locations accept checks and Griffith Park also accepts credit cards. All sales are final. Proof of City of Los Angeles residency is required such as a recent utility bill or a valid state-issued ID with your current home address.
Free mulch and compost are available for residential use. At Griffith Park and Lopez Canyon, we offer free compost and mulch in bulk; please bring your own shovel and container to take as much as you need for your residential gardening project. At South LA Wetlands and Gaffey Nature Center, bagged mulch and compost are available free in limited quantities.
Please note that events may be cancelled in the event of severe inclement weather; if the workshop is cancelled we will notify you via email. We will also post cancellations to Facebook, Twitter, and Instagram.
All registered City of Los Angeles residents who attend the workshop will be entered into a drawing to win a FREE rain barrel! Please note that if your household has received a rain barrel from the City of Los Angeles in the past 12 months, you are not eligible for the drawing. Registration is encouraged but not required.
Visit our website or call our friendly 24-hour Customer Care Center at 1-800-773-2489 if you have any questions.
We look forward to meeting you!
-----------------------------------------------------------------------------
As a covered entity under Title II of the Americans with Disabilities Act, the City of Los Angeles does not discriminate on the basis of disability and, upon request, will provide reasonable accommodation to ensure equal access to its programs, services and activities. Registration for this event will automatically register you for our mailing list. You may adjust your preferences or opt out at any time.
Notice to Paid Representatives: If you are compensated to monitor, attend, or speak at this event, City law may require you to register as a lobbyist and report your activity. See Los Angeles Municipal Code §§ 48.01 et seq. More information is available at ethics.lacity.org/lobbying. For assistance, please contact the Ethics Commission at (213) 978-1960 or ethics.commission@lacity.org.
About the organizer
As the lead agency for the City's environmental programs and initiatives, LA Sanitation & Environment protects public health and the environment through the administration and management of three program areas: Clean Water (Wastewater), Solid Resources (Solid Waste Management) and Watershed Protection (Stormwater). These infrastructure programs collect, treat, recycle, and dispose of the solid and liquid waste generated by the nation's second largest city of more than four million residents. Through these essential public service programs, LASAN delivers a triple bottom line of economic, environmental, and social benefits that sustain the quality of life in Los Angeles. For more information, please visit www.lacitysan.org or call our 24-hour Customer Care Center at 1-800-773-2489. Note that by registering for one of our events, you will be added to our mailing list. 

Follow us on Facebook, Twitter, Instagram, and Pinterest @lacitysan