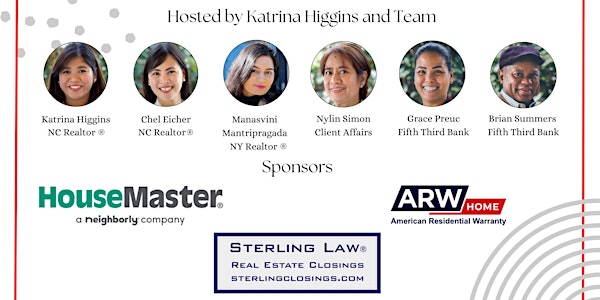 FREE Home-Buying Seminar
Free Home Buying Seminar
When and where
Location
Fifth Third Bank Office 4801 Glenwood Avenue Raleigh, NC 27612
About this event
Interested in buying a home, but not sure where to start? Have questions about financing, the searching process, or getting an offer accepted In a tough market?
Join us at this in-person, FREE, seminar to learn about the home-buying process and set yourself up for success in today's market.
Whether you are a first-time homebuyer or an experienced investor, you will walk away from this seminar with new information, new connections, and an increased level of confidence related to your home search.
Our home buying seminar
- Empowers you to make smart decisions throughout the home-buying process
- Prepares you for the responsibilities of homeownership
- Connects you to top professionals in the industry
- Teaches you tools and resources to improve your standing and get your offer accepted
- Introduces you to a community of like-minded and motivated buyers
The seminar will be led by Katrina Higgins, Realtor. Katrina is a high-touch agent known for her extensive market knowledge and her unmatched devotion to clients. She is known for her assertive and strategic negotiations in order to WIN and protect her clients. Her success is based almost exclusively on positive referrals, strategic and modern marketing, and unparalleled prospecting motivation.
Along with Katrina, we will connect you with the following professionals who will be answering all of your questions:
- Home Inspectors
- Home Warranty Providers
- Mortgage Officers
- Attorneys
We are excited to help you take control of your home purchase, and look forward to seeing you there! Lunch will be provided, so bring a friend!
Our Facebook group is available for those looking to get a head start: Home Buyer Group
Space is limited, so register today
Interested, but can't make the date? Send us a message and we will set you up with a FREE buyer's consultation with Katrina.