About this Event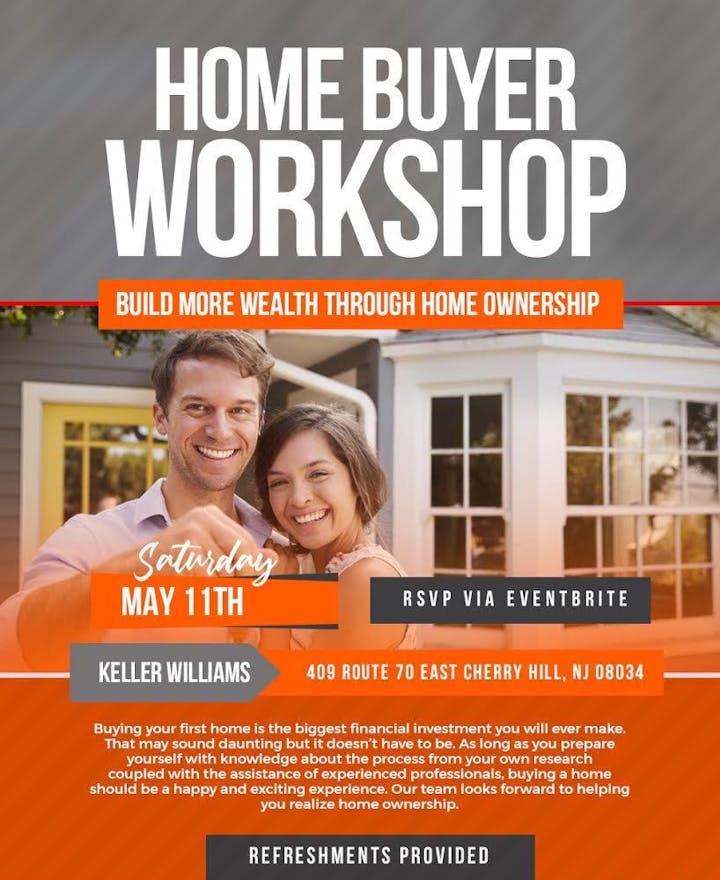 🏠Buying your first home is the biggest financial investment you will ever make. That may sound daunting but it doesn't have to be. As long as you prepare yourself with knowledge about the process from your own research coupled with the assistance of experienced professionals, buying a home should be a happy and exciting experience. Our team looks forward to helping you realize home ownership.
⭐⭐LUNCH WILL BE SERVED PLUS LOTS OF GIVEAWAYS
FIRST 30 PEOPLE TO REGISTER WILL BE ENTERED TO WIN ONE OF MANY GRAND PRIZES!!
1) $100 Gift Card
2) $50 Gift Card
3) One month of Credit Repair Services
📝📝Topics Include:
✔️$10,000 First Time Home Buyer Grants
✔️Can I afford to buy a house
✔️Pre Approval vs Pre Qualification
✔️203 K Renovation Loans
✔️Benefits of home ownership
✔️How to qualify for a mortgage
✔️How to avoid home buying mistakes
✔️What to expect during the Home Inspection
✔️Credit Repair
✔️Methods to improve and build your credit
✔️Receive a Free Copy of Credit Report
✔️Home Search Process
✔️How to get the seller to pay for your closing cost
✔️Current Real Estate Market Knowledge
✔️Making an offer, negotiating repairs, and winning multiple offers scenarios
✔️Learn the difference between: Standard Sale, Short Sales, REO, and Foreclosures
✔️Don't over pay for Homeowner Insurance
✔️Why hiring an Attorney can benefit you during the home buying process
🎫REGISTER FREE TODAY!! --Space is limited
Hosted By:
Keller Williams Realty - Cherry Hill
Primary Residential Mortgage - PRMI Mortgage
Core Inspection Group
Harmony Credit Solutions