Description
Grove's extensive history, the BID offers FREE bicycle tours to visitors and locals alike. Every first and third Saturday, join Royal Palm Tours of Miami, Frank Schema, as he uncovers the captivating history of Miami's oldest and most charming community by visiting notable sites and taking participants on a scenic and historic ride through the verdant streets of Coconut Grove.
For more information:http://www.coconutgrove.com/history/tours/
Need to rent a bicycle? Citi Bike is available for hourly rental: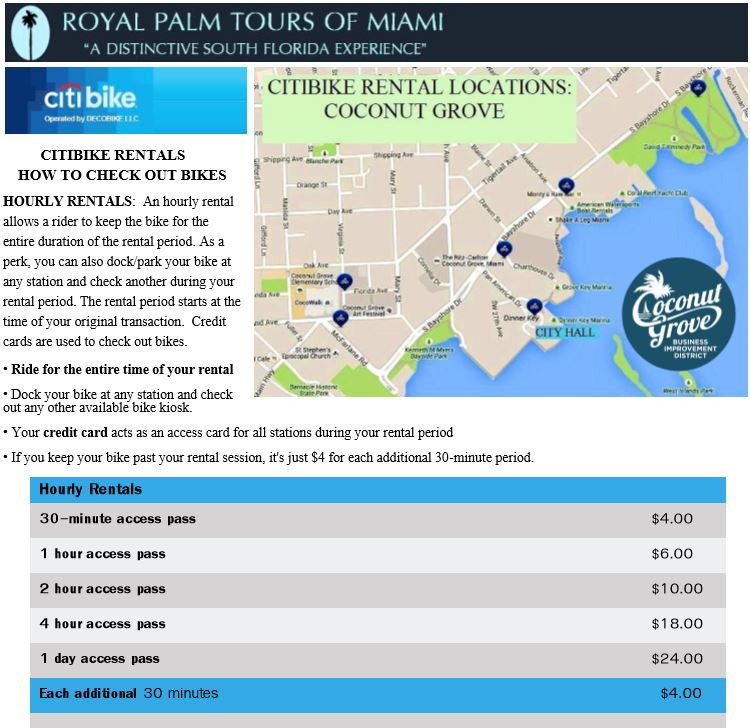 Organizer of Free Historic Bicycle Tours
The Coconut Grove BID is a Board of the City of Miami dedicated to protecting and enhancing the vitality of Coconut Grove's commercial core. Established in 2009 by its property owners and merchants, the BID has developed a variety of programs to keep the District clean and secure, fund marketing projects, sponsor special events, beautify the streetscapes, make capital improvements, collect and disseminate economic development research, facilitate access to parking, foster new business relationships, and partner with national, state and local organizations.