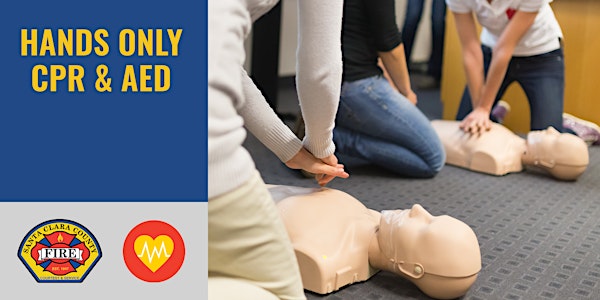 FREE Hands Only CPR & AED Class | Los Altos Hills | 1.5 hrs
When and where
Location
Los Altos Hills Town Hall 26379 Fremont Road NOTE: As a matter of safety please park in the parking lot and not on the street for our evening class as this area is not well lit at night. You might also consider utilizing a flashlight while traveling from your car to the Town Hall. Los Altos Hills, CA 94022
Description
Most often, citizens will need to perform CPR on a family member, friend or co-worker. Learn how to perform proper compressions and use an AED in the precious moments before first responders arrive.
This class follows American Heart Association (AHA) CPR/AED curriculum. Participants will learn how to perform high quality compressions on an adult and child, utilize an automatic external defibrillator (AED), and aid an adult or child who is choking.
You will not learn breathing (head tilt, chin lift) in this class. You will not learn infant compressions or choking. If you wish to learn these skills you will need to enroll in a 4-hour CPR/AED class. See below.
Participants will *not* receive a two-year CPR/AED certification.
This is not a Heartsaver CPR/AED class.
To locate a CPR/AED class to receive a two-year certification card, visit:
www.sccfd.org (Heartsaver CPR/AED class)
www.heart.org
www.redcross.org
This training class is open to individuals who live or work within the communities served by County Fire: Campbell, Cupertino, Los Gatos, Los Altos, Los Altos Hills, Monte Sereno, Saratoga, and the unincorporated surrounding areas.